The new 2012 Lotus Exige S has been unveiled at the 2011 IAA Frankfurt Motor Show in Germany. It's wider (by 50.8mm), longer (by 254mm) and more powerful than the predecessor, and it's being labelled as "the ultimate lightweight high performance sportscar".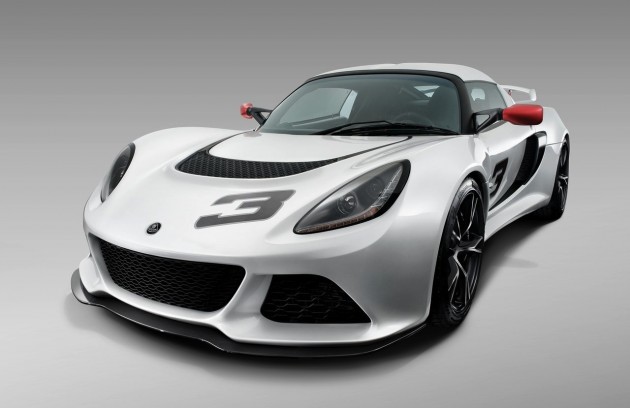 First thing's first with the new 2012 Lotus Exige S, power. The new model will get Toyota's 3.5-litre supercharged V6 engine, a unit that's also seen in the Lotus Evora. It offers a much more brutal 257kW of power and 400Nm of torque compared with the outgoing model (180kW), which allows the lightweight to run from 0-100km/h in just 3.8 seconds and a top speed of 272km/h.
As it's a Lotus, a focus on being light in weight has to remain as one of the main priorities. And for the 2012 Lotus Exige S, it's a box that has been checked. Lotus says the new Exige S weighs just 1080kg. It is around 138kg heavier than the 2009 model predecessor (942kg), but the power does make up for it, with comparative power-to-weight ratios of 4.2kg/kW for the new and 5.2kg/kW for the old.
The new 2012 Lotus Exige S will also get something that's perhaps not so common in Lotus cars; a sophisticated driver's control setting incorporated into the Dynamic Performance Management (DPM) system. There's three different settings to chose from, including Touring, Sport and DPM off. When optioned up with the Race Pack, another driving setting called Race is added which brings a Launch Control system as well.
As for the visual changes, the new 2012 Lotus Exige S presents a nice facelift over the predecessor offering a higher quality and more modern look. There's new headlights, a newly designed front bumper bar which features a very low splitter and chin spoiler, as well as a consistent and aggressive rear end including a nice wing behind the engine cover. Overall it looks like a very solid supercar
According to reports, Lotus has confirmed the new 2012 Lotus Exige S will go on sale, at least in international markets initially, by the end of the year. Lotus CEO Dany Bahar recently said,
"Anyone who has ever driven an Exige will tell you that it's not for the faint-hearted. The new Exige S skips a few rungs on the ladder to give the driver the ultimate Lotus experience. Quite simply you can't get more Lotus than the Exige S."
Also check out:
– Lotus Evora GTE unveiled at Frankfurt – most powerful Lotus ever