If you're after a practical, go-anywhere 7-seat SUV, the 2018 Isuzu MU-X is definitely a product that should be on your shortlist. We've just spent a week with the mid-level LS-U variant, and we can't figure out why more of them aren't on our roads.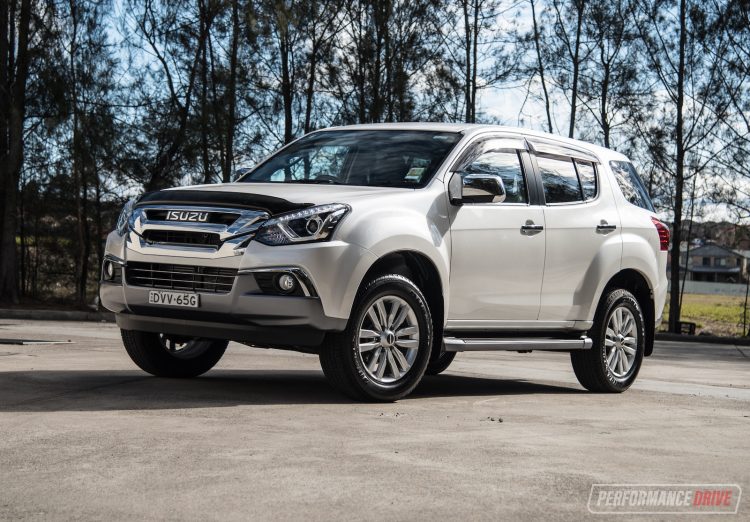 Isuzu Australia announced a mild update for the current-gen D-Max and MU-X in April. It brings in some suspension upgrades, new colour options, and a revised interior. There's also an even more refined interior for the top LS-T variant.
Both rear-wheel drive and part-time four-wheel drive options are available, and either a six-speed manual or automatic. The automatic (as tested here) retails from $52,500, which makes it one of the more affordable heavy-duty 4×4 7-seat SUVs on the market. It goes up against the likes of the Mitsubishi Pajero Sport, Toyota Fortuner and Holden Trailblazer.
2018 Isuzu MU-X LS-U – THE SPECS
Engine: 3.0-litre turbo-diesel four-cylinder
Output: 130kW@3600rpm / 430Nm@2000-2200rpm
Transmission: Six-speed auto
Drive type: Part-time four-wheel drive
Wheels: F & R: 18×7.0, 255/60
ANCAP: Five stars (scored 33.58 out of 37)
Tare weight: 2095kg
Power-to-weight: 16.11:1 (kg:kW)
Official fuel economy: 7.9L/100km
Economy during test: 9.0L/100km
Fuel capacity/Type: 65L/Diesel
Power efficiency: 16.45kW:L/100km
0-60km/h: 4.35 seconds*
0-100km/h: 10.55 seconds*
60-110km/h: 8.38 seconds*
1/8 mile: 11.18 seconds at 102.6km/h*
1/4 mile: 17.61 seconds at 127.0km/h*
Max acceleration: 0.645g
100-0km/h braking: 3.49 seconds at 42.10 metres*
Max deceleration: -1.018g
Decibel at idle: 51*
Peak decibel at 60-100km/h: 79*
Priced from: $52,500
* Based on 2017 model. Figures as tested by PerformanceDrive on the day. Factory claims may be different

2018 Isuzu MU-X LS-U – THE PACKAGE
Isuzu interiors don't exactly set new benchmarks for luxury or design. But other vehicles in this class aren't much better. In this LS-U spec you get multi-tone cloth seats with height adjustment for the driver, and a smattering of silver highlights for the dash and door trims. Every handle and button is placed exactly where you would expect, making the cabin feel homely and familiar as soon as you get in.
We like the cloth seats in the LS-U compared with the leather-accented setup in the upper variants. The material feels durable and hard-wearing, and even the cushioning has a sense of sturdiness to it. That's not to say that it's crude and uncomfortable. In the front, the seats provide good lateral support thanks to nice side bolsters, while the second row is contoured alike and is fully adjustable for recline and slide.
Right up the back in the third row the two seats are surprisingly accommodating. The headroom isn't too bad at all compared with the class standards, and the legroom can be opened up thanks to the adjustable second row. There's also some cup holders for both sides and the seats are separate so they can be adjusted independently or one can flipped down by itself. In fact, the gap between the two seats is large enough to provide good shoulder space. Some large quarter windows in the very back will no doubt reduce any feelings of claustrophobia.
As for the creature comforts, Isuzu introduced a new touch-screen media interface for the dash last year. It's not the most elegant interface and the graphics are behind some rivals. But it is very easy to operate, with a lineup of major menu buttons across the bottom helping to guide you to various functions. It comes packed with sat-nav and a rear-view camera as standard in the LS-U.
Isuzu has installed uprated USB ports in the cabin (including one for the back seat), going from 1.0A to 2.1A, which helps to recharge devices in shorter time. Some new soft-touch materials have also been applied to key areas around the dash and door trims to help boost refinement. And it has worked. It feels cosy and warm inside, and less hollow than the predecessor and some of the rivals. All three rows feature their own climate vents in the ceiling, too.
Boot space is rated at a minimum of 235L with all three seat rows up, or up to 1830L with the two rear rows folded down. A handy under-floor storage box is also presented, and there's a 12V socket in the back to power up accessories. The towing capacity remains unchanged, at 3000kg (braked), with a gross combination mass of 5750kg (including the 2095kg tare weight of the vehicle).

2018 Isuzu MU-X LS-U – THE DRIVE
The 3.0-litre turbo-diesel four-cylinder engine remains as one of the largest-capacity four-cylinder diesels in the class. Only the Ford Everest can trump it, with its 3.2-litre unit. Although, it is a five-cylinder. This really helps when towing as you can rely on engine braking more than you can in the rivals. Being larger also means the engine doesn't have to work very hard.
Peak power is available at 3600rpm, producing 130kW, while the peak torque of 430Nm is available from 2000rpm to 2200rpm. It offers a meaty mid-range, with good low-end pull when you need it. The six-speed auto seems well-matched to the engine, supplying the ideal ratio for any given command. And it doesn't up-change too early like some rivals.
Across the 0-100km/h sprint our Vbox timer showed a best result of 10.55 seconds. This was in an LS-U vehicle we tested last year . If anything, this 2018 example could be fractionally quicker considering the 2017 model featured a factory bull bar which may have weighed the vehicle down somewhat. Nonetheless, this is a decent time for this class. Even though acceleration isn't really a focal point for a vehicle like this, it's good to know the MU-X can get up to speed, and overtake, without too much stress.
Out in the suburbs the MU-X is a breeze to drive. The size is manageable, with no major nervousness threading through tight city streets. Parking is simple thanks to the tidy external proportions and rear-view camera. Measuring 4825mm long also helps when parking as some of these ute-based SUVs can be very long and a little deceptive when reverse parking.
Although the MU-X is based on the D-Max ute, the MU-X gets a unique coil-spring rear suspension setup. It retains the live-axle layout but the coil springs really help out with ride quality. In our opinion, the ride comfort is quite nice for this class. It doesn't shudder excessively over corrugated sections of road, and doesn't bounce or kick over sharp bumps. It feels well planted most of the time.
Swinging around corners out in the country isn't as rewarding as it might be in a sports car, obviously, but you'll be pleasantly surprised by how well-mannered the body control is. There's no excessive body roll or wobble, and turn-in is pretty sharp. It behaves confidently, and with good stability.
Off the road the MU-X is a robust and relentless SUV. The ground clearance measures 230mm, which is respectable for this class. But a majority of the components that do hang down underneath are either protected by plating, or they're a heavy-duty item to begin with, such as the ladder-style chassis. Switching from rear-wheel drive to four-wheel drive is made easy thanks to a rotary dial on the centre console. You simply spin it around into either 4H, or 4L for low-range.
We think outright off-road performance would be helped with the inclusion of a limited-slip differential for the rear axle, or a switchable locking diff like what some rivals get. But, you can rely on the traction control to pull you through most regular off-road conditions. For the adventurous-minded that enjoys the outdoors, it is more than capable enough. Only the more hardcore off-road trekkers will miss a trickier diff.
2018 Isuzu MU-X LS-U – THE VIDEO
2017 model shown for reference. Identical powertrain
2018 Isuzu MU-X LS-U – THE VERDICT
The MU-X LS-U is an honest and dependable 7-seat SUV. We really like its endearing character and approachable set of features. The neat exterior looks tough but without going over the top, and its tidy proportions make it easy to manage in the car park and on the highway. We also like the warm-natured interior package of the LS-U, with the cloth seats. During our week the fuel consumption averaged 9.0L/100km, which is great for this class.
If you need more of an excuse to consider the MU-X as your next purchase, we'd suggest heading to your nearest Isuzu dealer and checking it out for yourself. About the only elements to consider are the lack of a limited-slip diff/locker, and the somewhat basic cabin and touch-screen compared with some rivals. But these are very minor hiccups for an otherwise strong proposition.
PROS:
– Honest, practical cabin
– Easy to drive with good visibility
– Decent real-world fuel economy for its size
– 5-year warranty and renowned durability

CONS:
– A bit basic inside
– No limited-slip diff/locker
As always, if you're thinking about buying a new car don't forget to click here to speak with our car buying specialists.