If you love off-roading, military-strength equipment, and/or unique and custom creations that use no fuel, you need to check out this tank. It's called the Bollinger B1 and it is, in our opinion, the ultimate all-terrain bush basher.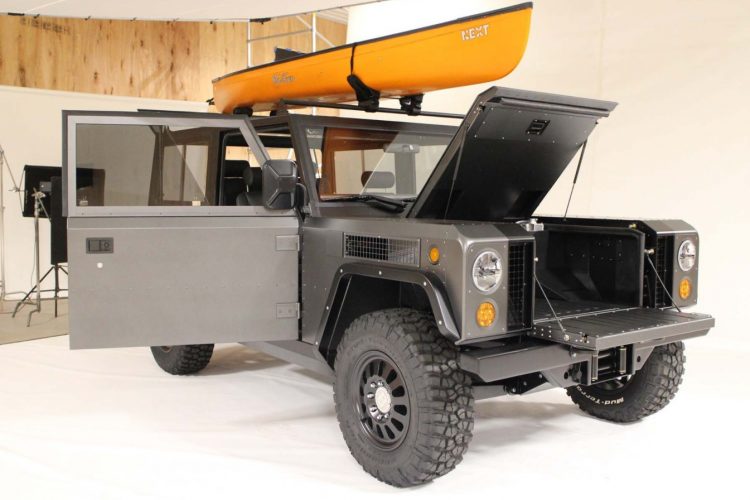 Yes, this tough beast ready for the bush is technically an eco-car. It's powered by either a 60kWh or 100kWh battery pack giving the tank a range of 200km or 320km, which is not bad when you start to understand its performance and capability. There are two electric motors involved, providing full-time all-wheel drive.
Bollinger says it offers a 0-60mph (97km/h) time of just 4.5 seconds, making it about as quick as an entry-level Porsche, with a top speed of 204km/h. It does this with up to 270kW of power and 640Nm of torque. It takes around seven hours to recharge the 60kWh version, or 12 hours for the 100kWh.
What can this machine do? Well, it offers an adjustable ground clearance between 254mm and 506mm, with 394mm in default setting. The 2667mm wheelbase provides a ramp-over angle of 33 degrees, with a 56-degree approach angle and 53-degree departure. There's also 6.35mm-thick protection plates underneath in case you do snag on something. If you face a deep water crossing, that's fine. The B1 uses four-layered encased batteries which can withstand submersion of up to 1000mm for up to 30 minutes.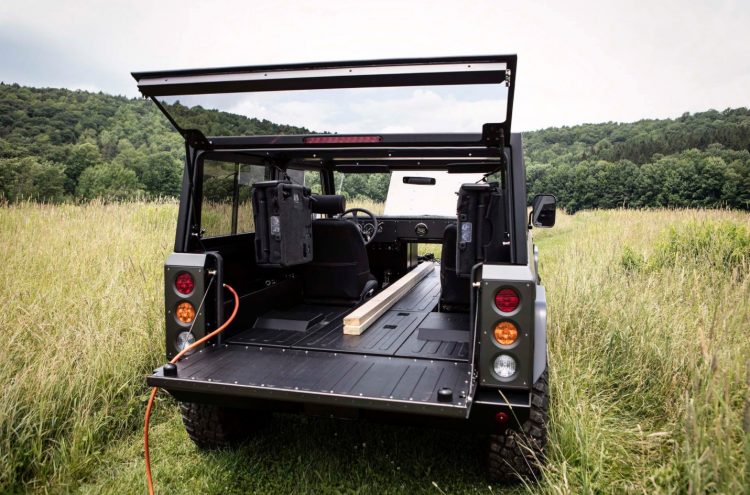 In the back of the open and uncluttered cargo area there is up to 2690L of storage capacity with the rear seats removed, and another 396L in the front bonnet area. You also get a whopping 2767kg towing capacity and 2767kg payload. Gross vehicle mass is 4536kg. Considering the beast weighs only 1769kg, this is perfect for any camping trip or heavy-lift worksite duty.
As you can see, the B1 wears serious off-road tyres. These measure 285/70, mounted on 17-inch aluminium rims. Bollinger says the wheels are attached via an eight-lug setup with a knuckle housing and geared axle hubs. Considering the underbody is almost completely flat, we'd be guessing off-road performance would be incredible.
Inside, it's pretty bare with only the essentials presented. But you do get 100-volt, 12-volt, and various USB outlets to recharge your tools and devices. The dash is just a panel to separate the front compartment from the cabin, and the seats appear to be just that, ideal for sitting.
Bollinger Motors, a New York-based manufacturer, is planning to announce its production plans later this year. However, B1 deliveries are set to start within 19 months. Reservation holders will be able to order their B1 with a $1000 down payment. Unfortunately, it doesn't look like any will be heading to Australia. Check out the specs below:
BOLLINGER B1 SPECIFICATIONS
Passengers 4
Seat Material and Color Black Leather
Drive AWD
0-60 (sec) 4.5
Top Speed (mph) 127
Horsepower 360
Torque (lb-ft) 472
Total Vehicle Weight (lbs) 3,900
Chassis Weight (lbs) 295
Power / Weight Ratio 10.8
Energy Storage (kWh) 60 or 100
Range (mi) 120 or 200
Motor Dual Front/ Rear
MPGe (est) 67.4
Wheelbase (in) 105
Length (in) 150
Width (in) 76.5
Height (in) 73.5
Rear Track 68
Ground Clearance (in) Adjustable between 10 – 20
Approach/ Breakover / Departure 56/33/53
Payload Capacity (lbs) 6,100
Total Cargo Capacity w rear seats removed including the frunk and passthrough area (cu ft) 95
Storage Capacity Frunk (cu ft) 14
Towing Capacity (lbs) 6,100
How many sticks of 2x4s can fit through the passthrough 24
Length from front to rear liftgates with liftgates closed (ft) 12
Length from front to rear liftgates with liftgates open (ft) 15′ 4″
Number of 1/2″ sheets of 4×8 drywall stacked bottom to top on the rear cargo area 72
Wheel Size Front/Rear LT285/70/R17
Wheel Color Black Satin
GVWR (lbs) 10,001
Charging Ports J1772 (110 & 220) & CHAdeMO (DC Fast)
Brakes 11.75 inch vented; regenerative; 4-wheel anti-lock inboard discs
Width/ height of the pass-thru (in) 13″ wide x 14″ high
Charge Time 60kWh (From fully depleted) Level 2 (220v):  7.3 hours – DC Fast: 45 min
Charge Time 100kWh (From fully depleted) Level 2 (220v):  12.1 hours- DC Fast: 75 min
Weight Balance 50/50
Skid Plate Thickness 1/4 inch ribbed aluminum
Exterior Color Gunhouse Grey with Black Accents