The Bugatti Veyron not powerful enough for you? Laraki Motors has revealed its latest project at Pebble Beach. Fittingly called the Epitome, it offers up to 1305kW (1750hp).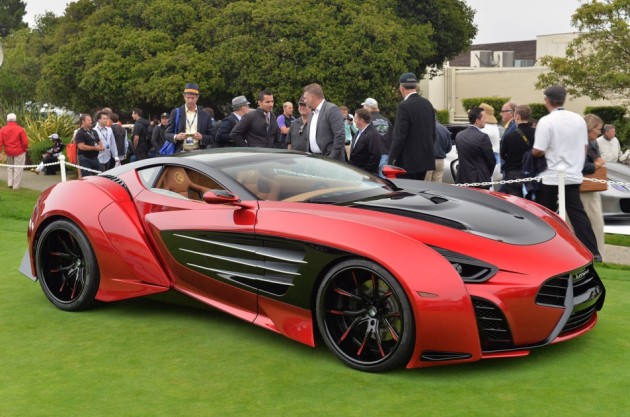 Ambitiously taking on the hypercar world, the Epitome is a boutique vehicle that will actually be produced. Laraki has plans to build up to nine examples, which means it technically becomes the most powerful production car on the market.
The car is based on a Chevrolet Corvette C6. It is hard to see the resemblance though, thanks to a quite futuristic and rather striking body design. All of the body panels are made from carbon fibre to keep weight down to around 1270kg.
As for the engine responsible for the monster power? It's a Chevrolet 7.0-litre twin-turbo V8 producing 894kW on regular pump petrol. With an advanced engine computer wired up to a button in the cabin, the engine is also happy to run on 110-octane racing fuel.
When the button is pushed and such fuel is in the tank, the engine churns out a hardly believable 1305kW. This makes it over 400kW more powerful than the mightiest Bugatti Veyron, the Super Sport (883kW).
There's been no mention on performance figures for the 0-100km/h sprint, but we're guessing it would be pretty darn frightening. With these sorts of figures, you could expect a quarter mile time in the low 9.0-seconds bracket.
To make it easy, with no change or any stuffing around, prices will start at a clean US$2 million.
All images copyright by www.laraki-motors.com
Photographer: Muscle Car Zone