Road & Track in the US has released a nice little acceleration video showcase called The Two Second Club. It's made up of three cars that are able to smash 0-100km/h in the two-seconds range. They include the Nissan GT-R, the Porsche 911 Turbo S and the Bugatti Veyron Super Sport.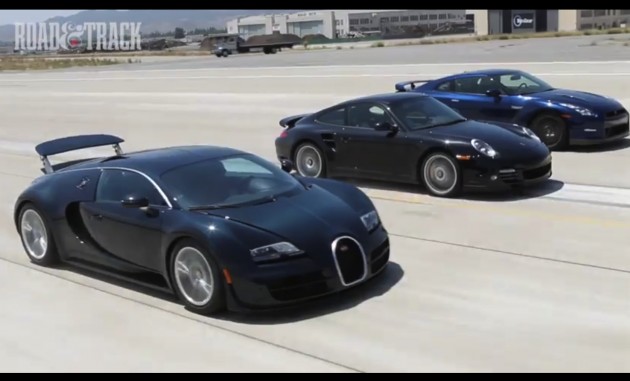 Road & Track takes the cars out onto an empty runway strip to put them against the clock in a series of acceleration tests, including the 0-100km/h (0-60mph), the 0-160km/h (0-100mph) and the 0-400m (quarter-mile).
Of course, the Bugatti Veyron Super Sport comes out on top with the quickest times, but let's just have a quick overview of the cars, and their price (if available in Australia):
Nissan GT-R: 3.8 twin-turbo V6, 390kW/612Nm, 1730kg – $168,800
Porsche 911 Turbo S: 3.8-litre twin-turbo flat six, 390kW/700Nm, 1585kg (unladen DIN) – $449,840
Bugatti Veyron Super Sport: 8.0-litre quad-turbo W16, 883kW/1500Nm, 1840kg – not available in Australia (left-hand drive only)
Click play on the video below to see how the cars shaped up. Results are displayed below the video.
Results:
Nissan GT-R
0-60mph (97km/h): 2.94 seconds
0-100mph (160km/h): 7.3 seconds
Quarter-mile: 11.2 seconds at 123mph (198km/h)
0-160mph (258km/h): 22.0 seconds
Porsche 911 Turbo S
0-60mph (97km/h): 2.84 seconds
0-100mph (160km/h): 6.7 seconds
Quarter-mile: 10.9 seconds at 128mph (206km/h)
0-160mph (258km/h): 18.7 seconds
Bugatti Veyron Super Sport
0-60mph (97km/h): 2.52 seconds
0-100mph (160km/h): 4.9 seconds
Quarter-mile: 9.9 seconds at 123mph (235km/h)
0-160mph (258km/h): 12.2 seconds