Audi has revealed a new range-opening version of its e-tron fully electric SUV, called the e-tron 50. It follows in the company's new naming structure, and sits below the existing e-tron 55.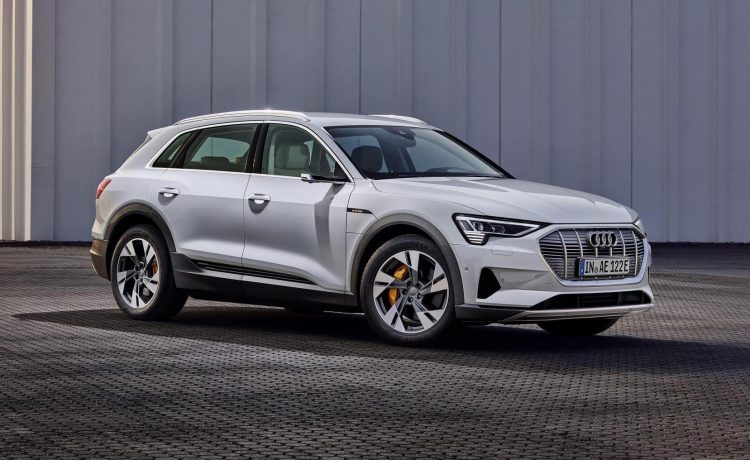 Power comes from a 71kWh battery system that provides grunt to two electric motors, including one for each the front and rear axle. Instead of providing an overall output of 300kW and 664Nm like the 55 model, the 50 offers a respectable 230kW and 540Nm.
As a result, acceleration from 0-100km/h isn't quite as quick, although, at 7.0 seconds it isn't a slouch. And it's only marginally behind the 55 which does it in a claimed 5.7 seconds. On a full charge the range is rated at 300km on the WLTP cycle, down from 399km in the 55.
The SUV features Audi e-quattro all-wheel drive system whereby power is sent to the rear axle during normal circumstances. During higher demands or if there is wheel slip, power is quickly transferred to the front axle as well. There's also active air suspension and a low centre of gravity to assist with dynamic driving scenarios.
When it comes to recharging, owners will be able to use a 120kW fast-charging station which can restore up to 80 per cent charge in just 30 minutes. Owners will also be able to install a wallbox at home, with capacities of 2.3kW or up to 11kW when using a 400V industrial point.
During driving, the powertrain uses an energy recuperation system which generates energy during 90 per cent of all deceleration situations. This includes during all normal braking, and it's managed via a new electrohydraulic actuator. It engages whenever deceleration exceeds 0.3g.
Audi says production of the new e-tron 50 will commence this year at its carbon-neutral plant in Brussels, Belgium. Market entry for the UK has been confirmed for early 2020, with a potential Australian introduction yet to be confirmed. The regular e-tron is expected to arrive in Australia in 2020, Audi says. In regards to the 50, Audi Australia said in a statement:
"The Audi e-tron 50 quattro is currently being evaluated for its possible introduction as part of the initial Australian lineup, however no decision has yet been made."