We already know the hotly-anticipated Kia Stinger sports sedan will come in as the quickest Kia production car ever. But now the company has confirmed just how quick it will be.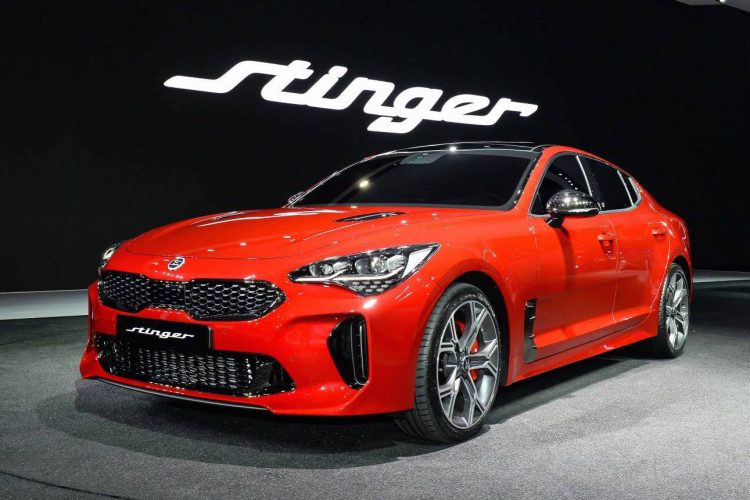 The Kia Stinger made its public debut in Korea for the first time at the Seoul motor show, just getting under way. And it's there where the company confirmed the final performance numbers.
Although a target 0-100km/h sprint time was set at 5.1 seconds, which was announced when the car made its global debut earlier this year, the company now confirms the official claimed time is 4.9 seconds.
This is a very quick time for a sports sedan, sitting just behind the 351kW Lexus GS F (claimed 4.6 seconds), and about the same as the outgoing Holden Commodore SSV with its 304kW LS3 V8 (PD tested 5.2 seconds)
How is it able to keep up? Well, the Kia Stinger, in its most potent guise, uses a 3.3-litre twin-turbo V6 producing 276kW and 510Nm. This is sent through an eight-speed automatic and into a rear-wheel drive system.
Also on offer will be a 2.0-litre turbo-petrol producing 188kW and 353Nm, and a 2.2-litre turbo-diesel developing 147kW and 440Nm. There will also be all-wheel drive options for some markets. It's believed Australia will get the two petrol versions, with rear-drive only.
What isn't quite clear is if the 4.9-second time is with the all-wheel drive option. In a recent press statement the company simply says the 3.3 engine will give "the Stinger 0-100km/h acceleration of just 4.9 seconds".
Either way, it's still the quickest and most powerful road-going Kia ever and should be a very popular one in Australia, especially as the Ford Falcon and Holden Commodore rear-drive sedans are soon to be extinct. Australian prices are yet to be confirmed.