The 2013 Audi RS 4 Avant needs no introduction. Like us, we bet you've been yearning to own one of these since it first appeared in year 2000 with its biturbo V6. The latest version comes with muscly styling and a magnificent 8500rpm-revving V8, yet it still carries on that sly, almost fallacious family wagon character.
PerformanceDrive was recently invited to sample some of Audi's latest performance cars, which gave us an opportunity to go for a proper test drive in vehicles such as the TT RS Plus, S7, R8, A6 TDI Biturbo, and the RS 4. Stay tuned for 'quick spin' reviews of the other models.
PROS:
Cracking engine, revs to 8500rpm
Trick sport differential and quattro system feels great
Serious braking performance from the optional ceramic discs
Excellent build quality
New model gets an almost $20k price drop
It's a V8 wagon; automatically ultra-cool?
CONS:
Optional 'RS'-like features should come as standard; Recaro bucket seats, sports exhaust, Dynamic ride control suspension
No manual transmission option
Umm…
What is it?
You know what it is. It's the seductively admirable and wickedly fast 2013 Audi RS 4 Avant. It arrived in Australia in February this year, proving practicality needn't be dreary at all.
Under the bonnet sits a 4.2-litre naturally aspirated V8 engine, which Audi says is virtually all new compared with the previous 4.2 V8. It produces 331kW of power at an ear-caressing 8250rpm – maximum redline 8500rpm – and 430Nm of torque between 4000rpm and 6000rpm. The new engine is around 21 per cent more efficient, with an average fuel economy rating of 10.7L/100km.
The incredible engine spirals its torsion down through a seven-speed dual-clutch S tronic transmission and into a complex new all-wheel drive system. Unfortunately, unlike the previous generations, there is no manual gearbox option.
The quattro system in the RS 4 is different to the systems found in other Audis. Under normal driving conditions power is split between the front and rear axles 40:60, respectively, but, under more demanding (commanding) circumstances up to 85 per cent of torque can be sent to the rear wheels. Audi says it provides more of a rear-biased and rear-wheel drive feel than other systems. More on that below.
Although there is heaps of standard kit, such as the comprehensive Audi media interface with sat-nav and so on, there are a lot of tasty options. Options that you'll want to tick include lightweight Recaro bucket seats, ceramic disc brakes, 20-inch alloy wheels, and a sports exhaust with an opening valve which makes the RS 4 sound like it's having an orgasm.
There's also an optional uprated speed limiter, to 280km/h from the standard 250km/h. This is great if you're trying to find a good way to dispose your licence, or if you plan on becoming the next Walter Rohrl at the Nurburgring.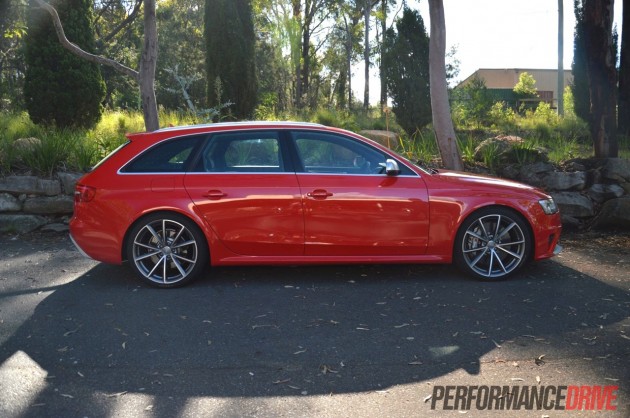 What's it like to drive?
It's hard to describe what the RS 4 feels like to drive. It's kind of like a cross between a video game and your imagination. If you close your eyes and think what it would be like, chances are, it's actually more interactive, energetic, and aurally pleasing that your mind assumes.
Leading into a bend, simply pull the left paddle shifter and listen to the engine blip blissfully into a lower gear, feed in some steering, and then just mash the throttle. You'll be astonished by how much grip is at hand. It doesn't necessarily feel boringly secure either, like, say, a Mitsubishi Lancer Evo which changes direction like it's on rails. The RS 4 does squirm and move about a bit and you can feel the power pushing from the rear, pivoting the car around, almost into a touch of oversteer. It's really fun and not intimidating in any way.
In between the corners is just as enjoyable. When you go through the gears, you need to be sure to relish in its 8000rpm composition. After all, that's where the peak power is. At first you might change gear at around 7000rpm, like we did, as your ears are probably used to this sort of maximum revs. It might take a few stints to get used to, however, revving it right out is where the party is at for this de facto family supercar.
The optional ceramic brakes are some of the best we've ever experienced. They provide tremendous stopping power, even capable of giving your head pins and needles after high speed halts, figuratively speaking of course.
From the huge Recaro bucket seats (as tested) it's almost impossible to pretend you're in an ordinary Audi A4. There's carbon fibre weave all over the dash and centre console, a small, flat-bottom Lamborghini-like sports steering wheel sitting perfectly in your hands, and of course there's that RS 4 instrument cluster staring at your face with a 9000rpm tacho and 320km/h speedo.
The ride is firm yet forgiving enough to be drivable in the city. The optional ($4200) 'Sport Suspension plus' with Dynamic ride control is a must for ultimate versatility, providing up to three different driving modes and corresponding damping settings.
Overall accommodation, when not optioned with the big Recaro bucket seats, is pretty much the same as the regular A4 Avant wagon. Cargo space is the same, as is rear seat legroom and headroom, both of which are on par with the rivals.
Should you want one?
If you have $150,000 to spend on a car, you simply must take one for a test drive. You owe it to yourself. And you owe it to your ears; they'll appreciate and welcome the V8.
Compared with its main rivals – the BMW M3 and Mercedes-Benz C 63 AMG – the RS 4 is the only V8 all-wheel drive wagon, which makes it so much cooler and more desirable. It's priced… well, fairly steeply in Australia, but it shapes up fair against the $155,900 C 63 AMG Estate. It sits as the medial performer in terms of power; BMW M3 (309kW) and Mercedes-Benz C 63 (336kW – 358kW with Performance Pack).
All RS 4 Avants over the years have been incredibly appealing. With the 2013 version, it's no different. The new version offers great all-weather grip, exceptional interior build quality, anabolic and aggressive looks (heavily pumped wheel arches are an awesome distinction), and a superb-sounding V8 engine.
About the only slight downside is the electromechanical steering. While, when optioned with the Dynamic setup (as tested), it is variable and can be altered between modes, it isn't quite up to the precision and feedback level of the M3. Although, it is still joyous and more than acceptable for a sports car.
2013 Audi RS 4 Avant 0-100km/h video:
Quick specs:
MODEL
2013 Audi RS 4 Avant
ENGINE
4.2-litre FSI naturally aspirated V8 with direct injection
POWER
331kW@8250rpm, 430Nm@4000rpm-6000rpm
POWER TO WEIGHT RATIO
5.6: 1 (kg:kW)
KERB WEIGHT
1870kg
DRIVETRAIN
Seven-speed dual-clutch 'S tronic' auto transmission, all-wheel drive with a sport rear differential
FUEL CONSUMPTION
Official average: 10.7L/100km
PERFORMANCE
0-100km/h: 4.6 seconds (as tested)
PRICED FROM
$149,400