Jaguar has announced a new model variant for its largest most luxurious model. Called the Jaguar XJ Ultimate, the flagship comes with a number of special features, and is available in long wheelbase form only.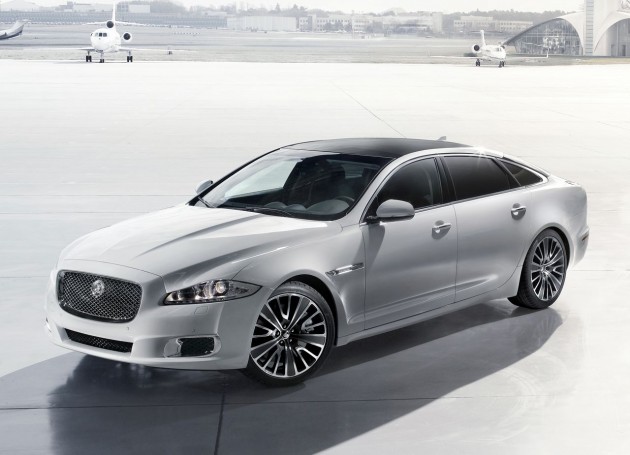 The Jaguar XJ Ultimate is all about offering the finest in luxury motoring, especially for rear-seat passengers. In the back, there's two independent premium leather seats that are electronically adjustable, featuring massage and recline functions. These point to two individual screens mounted on the backs of the front seat headrests, and also feature their own iPad systems.
Also in the back is a set of bespoke champagne flutes, a champagne chiller, and an electronic solid aluminium business table. Passengers are also treated to a 15-channel 20-speaker stereo system.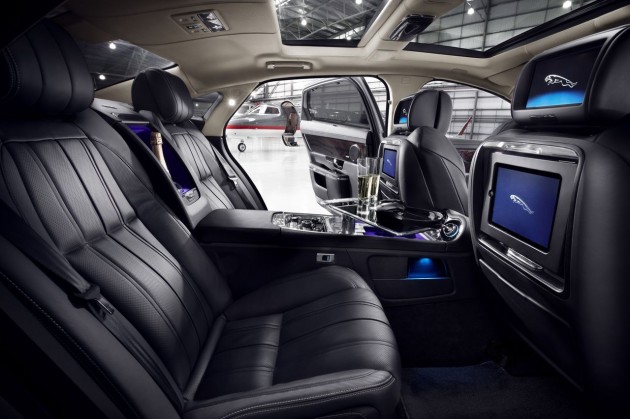 On the outside, the Jaguar XJ Ultimate comes with 20-inch 'Maroa' forged alloy wheels featuring grey and polished finishes, while the rear suspension has been retuned for a more supple ride for rear passengers over the normal XJ.
The first 20 Ultimate XJs will be painted in a special Celestial Black exterior colour. Buyers can opt to have any other colour as well.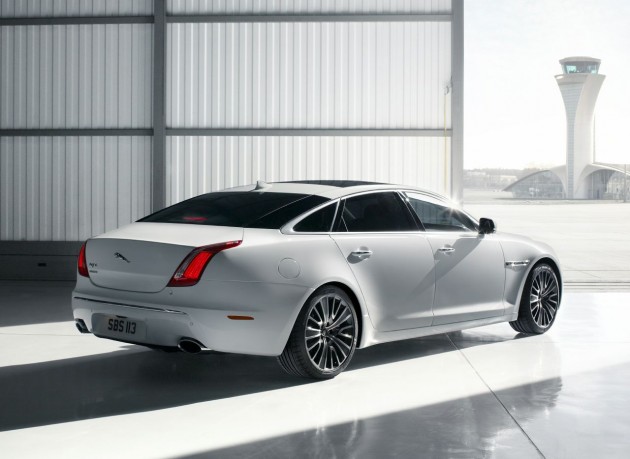 Apart from the string of pampering luxury features, the Jaguar XJ Ultimate will be the first Jaguar to come with the company's new 3.0-litre supercharged V6 petrol engine. The 5.0-litre supercharged V8, producing 375kW, and the 3.0-litre turbo-diesel V6, producing 202kW, will also be on offer.
Jaguar has confirmed the new 3.0-litre supercharged petrol V6 will make its way into a number of vehicles, including the XF and XJ, and the upcoming Jaguar F-Type sports car. In the XF and XJ, the engine produces 250kW, while in the F-Type it will produce 280kW.
In other Jaguar news, the British company has also announced the 2.0-litre EcoBoost turbo four-cylinder will make its way into the XF and XJ models. In Australia, it's understood the engine will only be available in the XF.
It produces 177kW of power and 340Nm of torque. The engine has been available in the Range Rover Evoque Si4 (full review coming soon). The engine variant will give Jaguar a direct rival to the Audi A6 2.0 TFSI, BMW 520i, and Mercedes-Benz E 250 CGI entry-level petrol models.
Both the new 3.0 supercharged V6 and the 2.0 EcoBoost will be available from the 2013 model range. New models are set to arrive in Australia in November.
PerformanceDrive contacted Jaguar Australia about the XJ Ultimate. Nariné Salmasi, marketing and public affairs specialist at Jaguar, told us the XJ Ultimate will be available for retail orders only, and said that advanced orders may be taken. She said customers would be treated to a very bespoke buying experience.
Salmasi also revealed that Jaguar Australia has already received its first deposit for the upcoming Jaguar F-Type.