BMW has unveiled the all-new BMW i8 Concept in Germany as part of the new BMW i brand – also including a new BMW i3 hatch. The BMW i8 will be the high-performance flagship model of the brand, and one of BMW's first proper sustainable contemporary plug-in hybrid sports cars when it eventually goes on sale.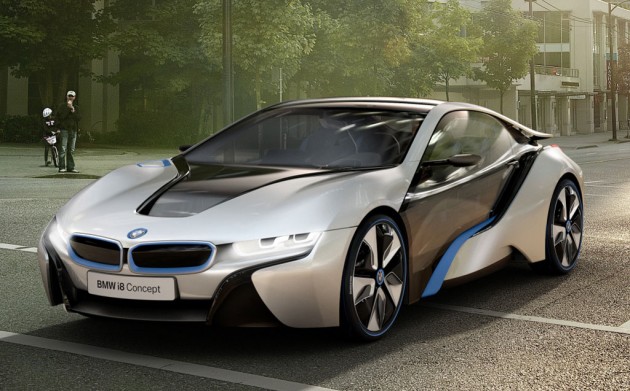 The BMW i8 Concept is based on the BMW Vision EfficientDynamics Concept vehicle, recently shown at the 2011 Australian International Motor Show, only it features design and powertrain layouts more similar to those that will be included on the production i8. It still has that very unique two-door body shape though, presenting flowing lines, a high waist and a sleek low-profile four-seat coupe body.
However futuristic the exterior may look, the drivetrain is also packed full of technology aimed at providing extremely low fuel consumption and emissions figures. It comprises of a front-mounted electric motor powering the front wheels, offering up to 96kW, while a rear-mounted 1.5-litre three-cylinder petrol engine producing a fairly hefty – for a three-pot – 164kW and 300Nm to the rear wheels. With a combined power output of 260kW, BMW says the i8 will be capable of doing the 0-100km/h dash in just 4.6 seconds.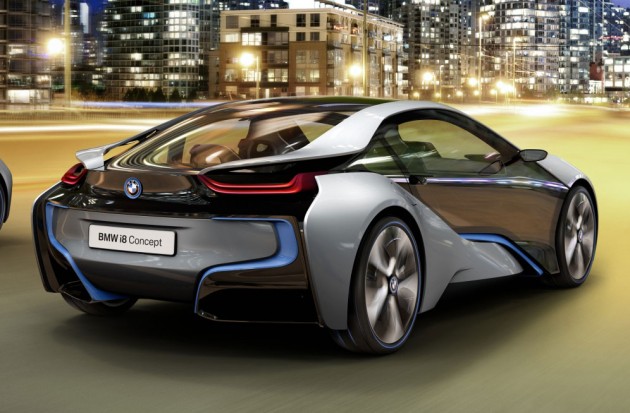 Connecting the two motors will be an 'energy tunnel' under the floor of the car, also containing a lithium-ion battery. While the car is driving under the petrol motor, the battery is charged back up, but the system also has a power outlet so the battery can be charged at home. Using the i8 in full electric mode (ECO PRO mode) provides a fuel-free range of around 35km.
Perhaps the most remarkable aspect of the BMW i8 Concept is the efficiency. BMW says the i8 will offer an average fuel consumption rating of just 3L/100km, or around 1L/100km better than a Toyota Prius. Simply amazing for a car capable of 4.6-second 0-100km/h times.
Inside, the BMW i8 Concept features a 6.5-inch LCD display inside the instrument cluster, while a 8.8-inch screen provides the central fascia with all entertainment and control settings.
The production version BMW i8 is slated to hit the international showrooms towards the end of 2013, after an initial BMW i brand launch with the BMW i3. Prices in Australia are expected to be beyond $300,000.
BMW i8 Concept full specifications:
Length/Height/Width
L 4632 mm, H 1280 mm, W 1955 mm
Wheelbase
2800 mm
No. of seats
2 + (2)
Kerb weight
1480 kg
Output
260 kW /550 Nm system output
of which petrol engine: 164 kW / 300 Nm
of which electric motor: 96 kW / 250 Nm
Top speed
250 km/h / 155 mph governed
Acceleration
0-100 km/h / 62 mph 4.6 s
80-120 km/h / 50-75 mph 4.0 s
Fuel consumption (EU cycle):
2.7 l/100 km / 104 mpg imp (66 g CO2)
Electric range
approx. 35 km / 20 miles
Battery charge time
Standard: 1:45 h for 100% charge
Luggage compartment
approx. 150 litres