Nissan is set to join the V8 Supercars in 2013, breaking the usual fight of Holden versus Ford. Kelly Racing – current Holden team – will pair up with Nissan, entering four cars.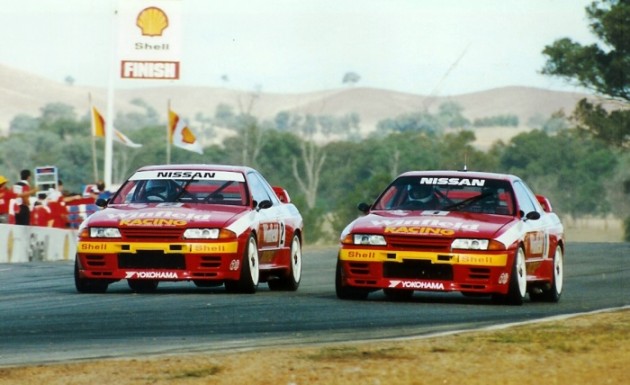 Unlike in the early Nineties, Nissan won't be competing in the series with the awesome all-wheel drive GT-R. Rules were put in place in 1993 restricting teams to strict, rear-wheel drive V8 powertrains in a sedan-based format.
The full announcement is yet to be made, but it is understood Nissan will be using a Maxima or Altima as the basis for the V8 sedan racing car.
Organisers of the V8 Supercars have called for a press conference, scheduled for later today, where full details will be revealed.
We'll update this story as details unravel.
UPDATE:
Nissan has officially announced it will be entering into the V8 Supercar series in 2013, partnering with Kelly Racing. The model that Nissan will use as a basis for the V8 Supercar race car is still to be announced.
V8 Supercars expects more outside manufacturers to follow Nissan's lead in the near future, especially as the series is set to expand from the current 15-round setup, to a new 18-round world-wide layout in the coming years.
Carmakers could gain leverage from the relatively high-profile nature of the sport. Nissan believes it is well suited to the series, and joining will blend in with the Japanese company's current brand promise of 'innovative and excitement'.
Managing director and CEO of Nissan Australia Dan Thompson said at the announcement earlier today,
"We plan to use our presence in the series to strengthen our passenger car credentials in Australia.

"Nissan believes that, alongside Ford and Holden, we possess the most convincing motorsport DNA and track history in Australia, making a V8 Supercars debut in 2013 an obvious initiative."
Mark Skaife, V8 Supercar commission chairman, was excited about the introduction, and expects more companies to follow as well. He said,
"This opens up a whole new chapter for V8 Supercars."

"The sport and the brand have been so successful over such a long period of time with today's news reinforcing the direction of the business, coupled with imminent international expansion to multiple destinations globally.

"Nissan has clearly acknowledged V8 Supercars as a major component of their future plans within the Australian car market and motorsport internationally. V8 Supercars will deliver on their expectations.

"There is no doubting the entry of more manufacturers now that Nissan has taken the first step to recognise what the relationship will do for their brand."
While the question of what model Nissan will be implemented for the sport is still unanswered, Nissan has revealed its motorsports and performance subsidiary will have plenty to do with it. Nissan says it will be building its own cars and own engines, using technologies tied in with NISMO.
A NISMO V8 Supercar… now that would spice up the game a bit. What do you think?