Mercedes-AMG has been spotted testing what appears to be a more hardcore version of the AMG GT R, potentially set to revive the Black Series badge. It was spotted doing some testing around the Nurburgring.
The company already offers the AMG GT R Pro (bel0w), which is a more hardcore version of the GT R, which itself is a hardcore version of the GT S, which itself a hardcore version of the GT. No but seriously, it looks like this prototype does feature some further enhanced highlights over the regular GT R and GT R Pro.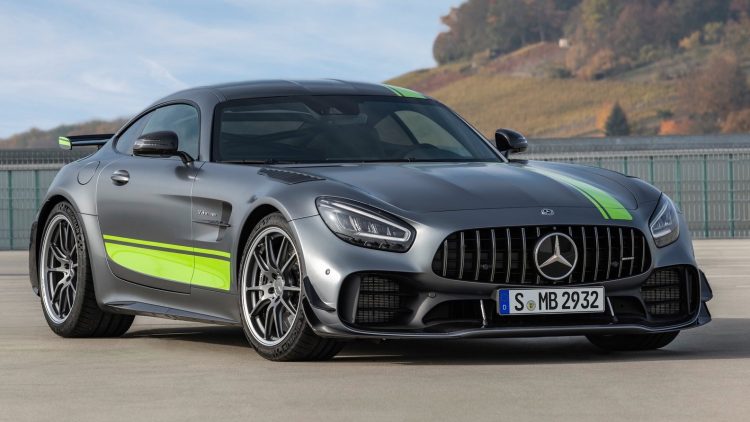 Despite being camouflaged in a off-putting black and white wrap, typical of a prototype, you can see some serious winglets on the front corners which are more extreme than those on the GT R Pro. There's also a revised bumper bar and intake system in the middle. You'll also notice the big vertical 'Panamericana' grille, and longer struts for the front spoiler.
Around at the back it doesn't seem quite finished yet. There are quad-outlet exhausts poking out, and although they differ from the central outlets on the GT R Pro, the design of the pipes doesn't seem clean enough for a production car. Obviously Mercedes could have fit a makeshift exhaust purely for testing purposes.
As for the power? We can expect the 'M178′ 4.0-litre twin-turbo V8 to remain, albeit in revised tune. In the GT R and GT R Pro the outputs stand at 430kW and 700Nm. However, this engine is also seen in the new GT 63 S 4-Door, where it produces up to 470kW and 900Nm. It would be reasonable to assume these figures could be carried over to the two-door coupe for the first time.
What is most interesting though is the sound of this prototype. It doesn't produce a clear V8 soundtrack. In fact, it sounds like an inline six. Could Mercedes-AMG be toying with the idea of fitting its new 'M256' 3.0-litre twin-turbo straight six into the GT? The company does offer the engine in the CLS 53 AMG and E 53 aMG. In those cars it's paired to a 48V mild-hybrid system, and develops 320kW and 520Nm.
If the six-cylinder engine is on the cards for the two-door coupe, you would think it would be an entry level engine for the GT. But then what's with the aggressive aero kit? Maybe AMG is developing a very potent hybrid setup with the M256 for the much-rumoured and reported Black Series? We'll have to wait and see.
Click play on the video below – courtesy of cvdzijden – Supercar Videos – and see for yourself. And feel free to tell us what you think is going on here.