Kia is planning to unveil a new SUV at the Chicago Auto Show in February, called the Niro HUV. It's a new hybrid utility vehicle. Some teaser renderings have been released to build anticipation.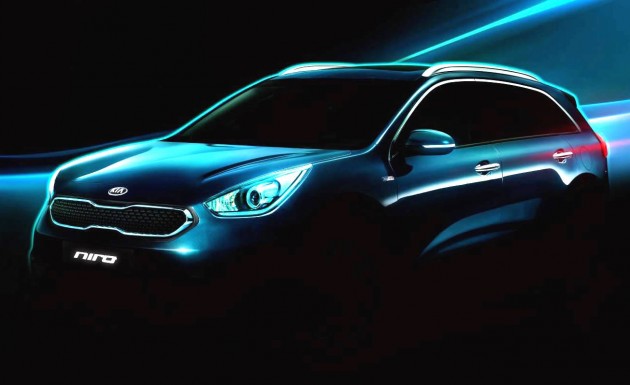 The Niro HUV will showcase a dedicated hybrid powertrain system which aims to "add a fresh dimension to the global compact SUV market". Needless to say, it will be the company's first dedicated hybrid SUV.
Specifications are yet to be finalised as testing and calibration continues, however, Kia says the system comprises of an all-new downsized petrol engine and electric motor combination. It's pitched to achieve a sub-90g/km CO2 emissions rating.
As for the design, we can see a perched up stance with defined rear haunches, LED taillights, along with peeled-back headlights and the company's traditional tiger nose front grille. It's all been designed at Kia's styling centres in California and in Namyang in Korea.
The Niro HUV is expected to become a popular SUV in the company's lineup in the future, given the increasing popularity of small SUVs and hybrids. Kia says the Niro "will demonstrate the considerable steps the brand has made in delivering comfortable, fun-to-drive vehicles that lead the way in low-emission motoring".
Clearer details and specs will be revealed at the debut, taking place next month. Stay tuned.