We've see the front of the new Infiniti Q30 but now the back has been photographed during an official photo shoot on the streets in Prague.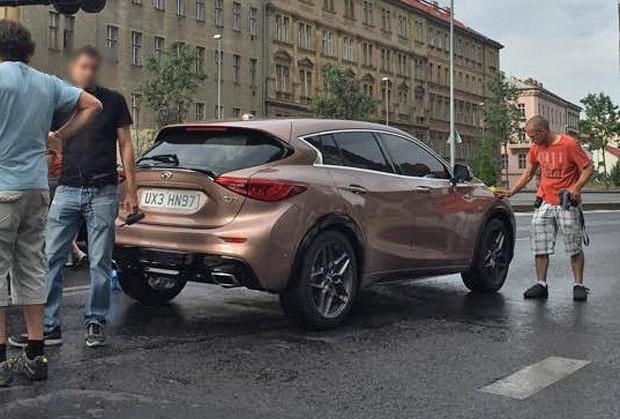 Infiniti released some details a few days ago, including a preview image showing the front end of the new model. At the back you can see a similar design theme is carried across, also borrowing plenty from the original concept model.
There's chrome detailing along the lower edge of the rear windscreen, a gloss black diffuser setup underneath, slim taillights, and a pair of C-pillars that appear to have melted.
This example also features dual-outlet exhausts. It's unknown if all models will get twin exhausts, however, a 2.2-litre turbo-diesel and 2.0-litre turbo-petrol are likely to make up the lineup.
The engines, borrowed from Mercedes-Benz, develop 125kW and 400Nm, and 155kW and 350Nm, respectively. All models are expected to be front-wheel drive, leaving space for the QX30 which is coming further down the track. The QX30 will be a slightly jumped up version and could be offered with all-wheel drive.
Infiniti seems to be readying the new hatch for its big debut at the Frankfurt Motor Show in September. Images from this photo shoot in Prague are expected to be released very soon. It will be the company's first foray into the premium small hatch segment.