Oztrack Tuning, a Western Sydney-based Holden and HSV performance specialist, offers a drive-in drive-out kit for VE E Series HSV vehicles equipped with the 6.2-litre LS3 engine, improving power and overall driving performance.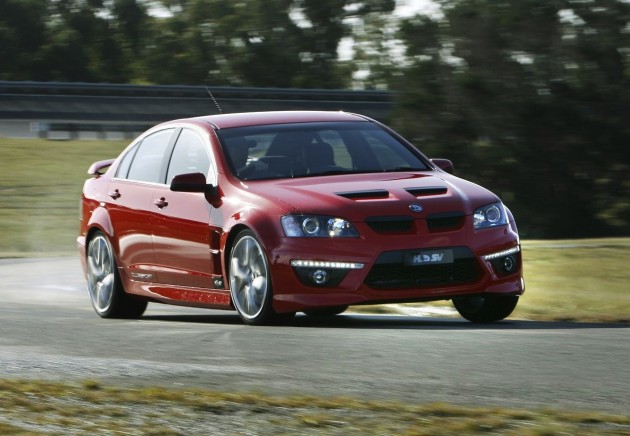 Oztrack Tuning VE HSV LS3 415kW performance package – information on kit:
The kit consists of installing a new Oztrack Tuning custom camshaft, a set of double valve springs, titanium retainers, new seals, bushes, and chromoly pushrods to suit the application.
To maximise airflow and improve the LS3's engine note a three-inch exhaust with metal catalytic converters is fitted up as is an over-the-radiator air intake, and a set of four-into-one HPC-coated extractors.
The engine is then tuned on Oztrack's in-house dyno for maximum driveability and performance.
The complete job is usually completed within three working days.
HSV models that have been fitted with the 6.2-litre naturally aspirated LS3 engine are the VE-based E-Series Clubsport, Clubsport R8, Maloo, Maloo R8, Senator, and GTS (note: some early model VE HSV models were fitted with the 6.0L LS2 V8 – for a kit relating to this engine configuration contact Oztrack Tuning).
Oztrack Tuning VE HSV LS3 415kW performance package – parts used:
Duspeed II OTR air intake
Oztrack Tuning custom camshaft
Double valve spring kit with titanium retainers, seals, bushes, chromoly pushrods
Long four-into-one HPC-coated extractors
Twin three-inch exhaust system with metal catalytic converters
Customers can also choose to have a 25 per cent underdrive balancer kit fitted up for an extra $450.
Oztrack Tuning VE HSV LS3 415kW performance package – estimated power figure:
415kW at the flywheel/325-345kW at the wheels*, and slightly less for automatic vehicles.
*Power figures are indicative only
Oztrack Tuning VE HSV LS3 415kW performance package – price:
$6290**
**Prices subject to change
Workshop details: Oztrack Tuning
Oztrack Tuning is based in Penrith, NSW. The company specialises in VT-VE Commodores and HSV models with LS1, LS2, LS3, LS7, L98, L76 and L77 engines. Oztrack also tune and work with Corvettes, Pontiac G8s, and Camaros, and can tune race engines and Holden V6 engines from VZ Commodore upwards.
Contact:
Phone: (02) 9119 3895
Website:
www.oztracktuning.com
Address:
Unit 8 28 Coombes Dr, Penrith NSW 2750