This is it. Hyundai Veloster SR Turbo versus the Toyota 86 GTS. Front-wheel drive versus rear-wheel drive. Understeer versus oversteer. Turbo versus 'NA'. Convenience versus compromise. These two vehicles sum up two major enthusiast types. They also happen to be the two kingpins of the under-$80,000 sports car segment in Australia. So, what's the better sports car? What should you buy with your hard-earned money?
Hyundai launched the quirky Veloster, with its single driver's side door and two passenger doors, back in 2011. It was an instant hit, becoming the best-seller in the class almost immediately. This was until the Toyota 86 came along in 2012. Since then, the Toyota has overtaken the Veloster to become the new king. So far this year (as of November VFACTS) Toyota Australia has sold 3928 86s, while Hyundai has sold 3193 Velosters. It's a close battle.
Hyundai's SR proposition comes with a 1.6-litre turbocharged engine producing 150kW of power and 265Nm of torque, sent through a six-speed manual and into the front wheels. Meanwhile, the Toyota is powered by a 2.0-litre naturally aspirated boxer engine made by Subaru, producing 147kW and 205Nm. It's also matched up to a six-speed manual, however, from there it goes into a rear-wheel drive system equipped with a limited-slip differential. (Both cars are available with a six-speed auto as well.)
Prices are very competitive, with the Veloster SR Turbo just edging out ahead with a retail listing of $32,990. The Toyota 86 GTS kicks off from $36,490, although, if price is your main concern you can go for the 86 GT manual which starts at $29,990, but it doesn't come with the same comparative level of standard features as the Veloster SR Turbo.
Hyundai Veloster SR Turbo vs Toyota 86 GTS: The Specs
It's very easy to sum up these two vehicles. They are actually very different apart from the price bracket. The Hyundai is for the sporty driver who will use the car on a daily basis, including possibly to pick up the kids or to collect the shopping. It's sporty in that it offers a more useable engine with torque that is more favourable in traffic conditions compared with the Toyota's naturally aspirated rev-happy unit.
As for the Toyota 86, it is the far better driver's car. It out-performs the Hyundai with overall dynamics, engagement, and perceived mechanical longevity. Drivers who like to slide around will obviously enjoy the rear-wheel drive layout, and the major components, such as the clutch, transmission, suspension, engine, and brakes, withstand longer and heavier abuse than the Hyundai package on the track.
Neither car here is actually better than the other. They are designed for two separate target markets, although some areas certainly overlap, such as pricing, youthfulness, and their aftermarket personalisation and tuning potential. Both present attractive dexterity, only in slightly different areas. Because we love driving and hitting the track, we award the Toyota 86 GTS the crown in this test.
| | 2015 Toyota 86 GTS | 2014 Hyundai Veloster SR Turbo |
| --- | --- | --- |
| Engine | 2.0-litre boxer four-cylinder | 1.6-litre turbo four-cylinder |
| Output | 147kW@7000rpm / 205Nm@6400-6600rpm | 150kW@6000rpm / 265Nm@1750-4500rpm |
| Transmission | Six-speed manual | Six-speed manual |
| Drive type | Rear-wheel drive, limited-slip diff | Front-wheel drive |
| Wheels | F: 17×7.0, 215/45 R: 17×7.0, 215/45 | F: 18×7.5, 215/40 R: 18×7.5, 215/40 |
| ANCAP | Five stars (scored 34.4 out of 37) | Five stars (scored 35.47 out of 37) |
| Tare weight | 1275kg | 1307kg |
| Power-to-weight | 8.6:1 (kg:kW) | 8.7:1 (kg:kW) |
| Official fuel economy | 7.8L/100km | 6.8L/100km |
| Economy during test | 8.7L/100km | 7.7L/100km |
| Fuel capacity/type | 50L/95 RON | 50L/91 RON |
| Power efficiency | 18.8kW:L/100km | 22.0kW:L/100km |
| 0-100km/h as tested | 7.4 seconds | 7.2 seconds |
| Wakefield Park best lap | 1:16.2 | 1:17.5 |
| Priced from | $36,490 | $32,990 |
Hyundai Veloster SR Turbo vs Toyota 86 GTS: The Package
Entry level sports cars like these are great because they are more often than not quite practical as well as sporty. In the Hyundai's case, that's exactly what you get. Hyundai has cleverly added a rear door to the passenger side allowing easy access to the rear seats. This means you can get adults in the back with ease.
Legroom is reasonable but headroom is restricted due to the sleek roofline, despite looking like a conventional hatch on the outside. For a small family though it is perfectly adequate. You can get the kids in the back and they'll enjoy a decent view and space to move about. Both cars have no centre seat in the back.
Over in the Toyota 86, this is a completely different layout. It's a genuine coupe taking more of a traditional profile with just two doors. Rear seat space is almost non-existence. Adults will find it almost impossible to even get into the back let alone being comfortable. Headroom is seriously restricted and there is virtually no legroom unless the front seats are rolled all the way forward. If you're tossing up between these two vehicles and family-hauling ability comes into your criteria, you should probably cross the 86 off your short list right now.
In terms of ergonomics, the Toyota is the nicer layout for the driver. You sit snug and low (almost too low), with a perpendicular steering wheel facing right at your chest. Around you, you have a high centre console providing a 'sit in' rather than 'sit on' position, while the dash surface area is minimal, simplistic and sits up high and square-on.
For the Veloster, Hyundai has gone for a more futuristic design. The driving position is okay but not ideal for a sports car. You don't get the intimacy that you get in the Toyota. On the flip side, it does seem more practical and is perhaps more appealing to a wider range of buyers. The seating is not too low and the centre console doesn't wrap around you like it does in the 86, which means the atmosphere is bright and airy.
Hyundai has updated the cabin since the Veloster was introduced in 2011, with a new, stubbier gear shifter for the manual which is much nicer to grab. It's shorter too, improving shift feel compared with the wonky arrangement that was previously used. Toyota hasn't introduced any major updates for the 86 interior since it was launched in 2012.
The Korean proposition has a cheap feel inside with lots of scratchy plastics and a mono-tone, mostly grey theme. The Toyota isn't much better in this department, with a portion of the dash showcasing a chunk of phony carbon fibre. There are some quality touches in the 86 though, such as red stitching for the steering wheel and gear shifter, and multi-material seats with grippy Alcantara-like sections and some more red highlights. It's easy to criticise both, but you can hardly complain about any area when you remember the tempting price tags.
Since these two are the top variants, it's no surprise that both of the prominent carmarkers have filled their cars with everything they can. They both come with a significant level of standard kit. In fact, it's hard to split the two. Both come with an interactive touch-screen infotainment system with sat-nav and a reversing camera as standard.
Pushing the little buttons and prompts on the Toyota's generic aftermarket-style system can get annoying, while the Hyundai's more appealing system can be slow to load and unresponsive at times. We think the system in the Veloster is superior thanks to the better integration and multiple external buttons that allow you to jump to various menus while on the go. Selecting various options in the Toyota does pose a higher safety threat as you spend more time double-checking what button you need to push.
Lastly, Hyundai wins the boot space contest by far. Hyundai quotes a capacity of 320 litres. This is enough to get most of the week's shopping in and a few bits of sporting equipment. In the Toyota 86, cargo space is minute. Even though the previous and intrusive spare wheel setup has been fixed by the introduction of a puncture repair kit – like a mountain bike – it is rated at only 218 litres. It's shallow, which makes it difficult to cart around anything thicker than, say, a bag of golf sticks.
Overall, the Hyundai wins out on practicality. It might feel a bit cheaper and the driving position is a bit awkward, but the useable rear seats, that rear door, and the friendlier touch-screen system and cabin freedom makes it the better choice for daily drivers. If you only care about driving, sports car theatre, and feeling connected to the car, the Toyota is your choice.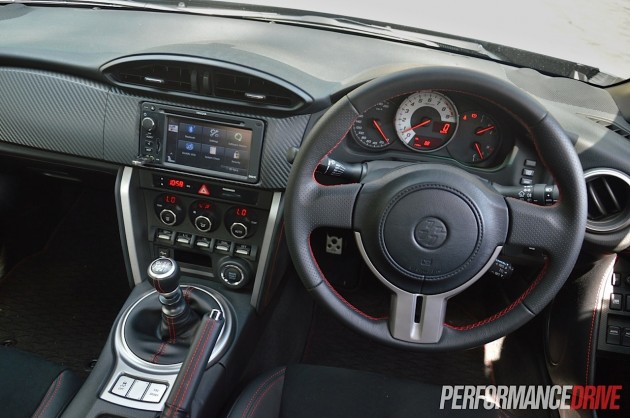 Hyundai Veloster SR Turbo vs Toyota 86 GTS: The Drive
On the road the Veloster, again, is a more appealing vehicle for wider variety of car buyers. It's softer and offers a smoother and more comfortable ride compared with the 86. The Veloster's engine also offers more torque and from lower revs (265Nm from 1750rpm) thanks to the turbo surge, which means you can coast through traffic and overtake easier than you can in the Toyota (205Nm from 6400rpm). Point-to-point performance is surprisingly swift in the Hyundai too, thanks to the tractable engine.
You might think or may have heard people say the 86 is down on power. We don't think it's down on power or torque, actually. Instead, its problem is where in the rev range this power and torque is accessible. Driving in the city or around the suburbs you're hardly ever going to reach the maximum figures. Peak power isn't available until a pedestrian-startling 7000rpm, and peak torque doesn't come into existence until 6400rpm. This can be a problem if, like most, you'd rather drive inconspicuously and without attracting the attention of law enforcers.
Gear changing is easier in the Hyundai. The shift feel is light and the clutch pedal is easier to depress. When you're in stop-start traffic, swearing at other motorists (or however you choose to vent your frustration), pushing the clutch in and out can become petrol to your fire if the clutch is uncomfortable or heavy like it is in the Toyota. Like most Subaru vehicles, the manual in the Toyota feels somewhat notchy, but there is a definite mechanical feel. Some drivers will like this heavier operation as it is reassuring and manly.
These two are quite different vehicles on the road. One is practical and easy to live with on a daily basis, and more fuel efficient (Hyundai averaged 7.7L/100km and the Toyota averaged 8.7L/100km), while the other is a more dedicated sports car that requires lots of revs and lots of enthusiasm before it shows its true colours. Aside from the on-road driving performance, the Toyota does make you feel special, even when sitting at the lights. That low driving position and the clunky and jerky drive action is more theatrical than the Hyundai's mundane and conventional behaviour. In a typical drag race, acceleration from 0-100km/h is just quicker in the Hyundai, recording a time of 7.2 seconds compared with the Toyota's 7.4 seconds.
When it comes to the track the Toyota is all over the Hyundai. There are no major bumps on a circuit which means the suspension needs to be firm to feel good, and the Hyundai just doesn't offer this. It wallows and rolls into corners, with a slow transition to understeer if you push too hard. The lack of a decent differential means there is a lot of inside wheel wheelspin pulling out from tight corners. And we mean a lot. You can smoke the inside wheel until the cows come home, or until something mechanical eventually gives (or the tyre). If you're a bit childish, like us, it can be fun for the first few laps but you soon want to get on with a decent lap time.
The circuit instantly feels like a natural habitat for the Toyota. With firm suspension there is very little body roll. There's pin-sharp steering as well so you can clip the apex on each and every corner with finger-tip precision. Understeer is never really an issue (except on the final corner at Wakefield Park due to a poor surface). In fact, if you're not used to oversteer the 86 can catch you by surprise. For drifting fans, you'll immediately warm to the Toyota's natural ability to tip into corners with the back end already stepping out before the apex. From which point you simply lean heavily on the accelerator to execute an easy-to-control drift.
During our track outing, thanks to GP EXEC track days, the Veloster gave off some signs that it didn't want to be there. Gear shifting became difficult, particularly going from second gear to third gear. We think this could be due to the synchromesh engagement overheating. We also noticed the engine temperature rising as the day went on, despite the outside temp being a cool 15 degrees.
The Toyota 86, on the other hand, showed no sign of any wear or tear whatsoever, and even the brakes withstood repeated abuse. You've probably heard many driving experts praise the 86 time and time again. It's not until you actually drive one flat out that you appreciate the engineering and confidence-inspiring performance. It is absolutely ideal for track days and driving enthusiasts.
Out on the road it can seem like a typical Toyota. But when you start to throw it around and really rev the clacker out of it, it turns around by saying, 'finally, yes, let me show you what I can do'. It might be hard for some buyers to understand that this really is engineered to be driven flat out. If you're looking to get into amateur racing or drifting, this is your car. It's bliss. In the end the best lap time we could achieve in the Toyota at Wakefield Park was 1:16.2, and 1:17.5 in the soon-tired Hyundai.
Hyundai Veloster SR Turbo vs Toyota 86 GTS: The Videos
2014 Hyundai Veloster SR Turbo – 0-100km/h and ENGINE SOUND VIDEO
2015 Toyota 86 GTS – 0-100km/h and ENGINE SOUND VIDEO
2015 Toyota 86 GTS Wakefield Park – HOT LAP VIDEO
2014 Hyundai Veloster SR Turbo Wakefield Park – HOT LAP VIDEO