Hyundai's new NEXO electric SUV has been crash tested in the US by the Insurance Institute for Highway Safety (IIHS), and it has passed with flying colours. In fact, it was given a Top Safety Pick+ rating. What's the big deal? Well, the NEXO features an advanced hydrogen fuel cell system and this is the first time IIHS has undertaken crash tests on a vehicle with this technology.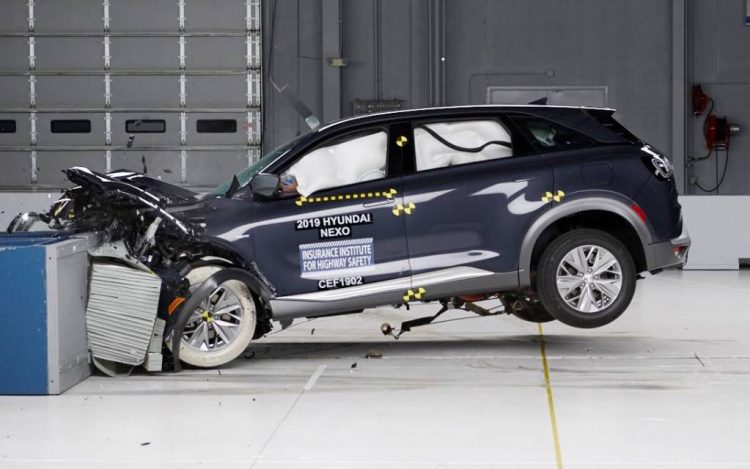 Not only that, the 2019 Top Safety Pick+ accreditation is the latest benchmark and is available only to vehicles built after June this year. Vehicles must earn good ratings for various crash tests, including driver and passenger side overlap tests, side impact and moderate overlap tests, along with roof strength and head restraint tests, and vehicles must receive an advanced or superior rating for frontal crash prevention.
The NEXO returned with good ratings for all six tests, with a superior rating for the frontal crash prevention tests. During analysis, the vehicle avoided crashes at the standard 19km/h (12mph) and 40km/h speeds, and the high-beam assist feature passed with no issue. Speaking about the results, Scott Margason, director of product planning at Hyundai America, said:
"Hyundai and its engineering team continue to make vehicles even safer with the addition of active standard safety features, prioritising cutting-edge safety and convenience at the forefront of the driving experience. Our NEXO further emphasises this priority on safety, with generous driver-assistance technologies and excellent passenger protection in a hydrogen fuel cell vehicle."
This is great news for the industry and for car buyers, as it proves hydrogen fuel cell vehicles can be made to meet and exceed the latest safety standards. There are many technology experts and industry specialists that are predicting hydrogen to be the key power source for vehicles of the future, with plug-in electric vehicles being only a stepping stone phase.
The NEXO runs on an electric motor system that provides 120kW and 394Nm, which is enough for a 0-100km/h sprint in 9.5 seconds. We fully fuelled with hydrogen, the system offers a range of around 666km (WLTP). Hyundai Australia is set to launch the NEXO later this year, although, at present, there is just one hydrogen filling station in the country. It's located at Hyundai Australia's headquarters in Sydney.