Hyundai Australia is announcing a new sporty addition to the Accent range called the Accent SR. The new variant is an Australian market exclusive, sitting at the top of the range, and comes with a high-output 1.6-litre engine.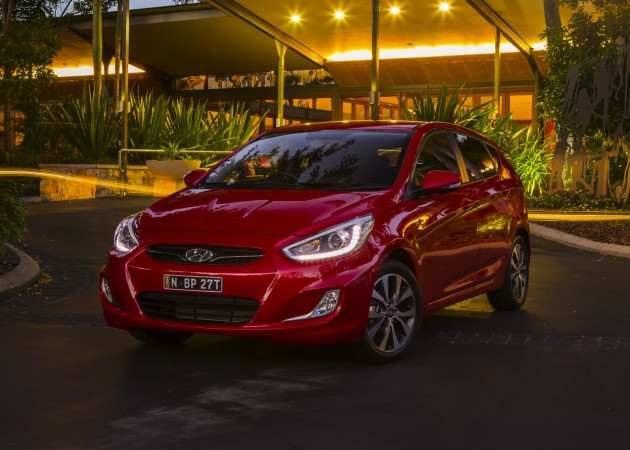 Injecting the Accent hatch with a dose of sportiness, the SR comes with sports suspension, a subtle bodykit with a rear spoiler, and a set of bespoke machined-face 16-inch alloy wheels.
Hyundai says local engineers evaluated 20 different front damper setups and 17 rear setups before reaching the optimum handling arrangement.
The rear now features twin-tube Mando dampers, while spring rates have been stiffened from 2.4kg/mm to 2.5kg/mm at the front, and deceased from 2.0kg/mm to 1.9kg/mm at the rear. Stabiliser bar thickness was also decreased for the front from 23mm to 21mm.
The suspension changes have been made to provide sharper turn-in, quicker response, and enhanced body control, while improving the Accent's ride quality.
Propulsion comes from Hyundai's 1.6-litre four-cylinder 'Gamma' engine (also seen in the Veloster), which features technologies such as direct injection. It produces 103kW of power and 167Nm of torque. This is 13kW and 11Nm more than what is offered in the otherwise top-rung Accent Active 1.6.
The engine can be matched up to either a six-speed manual or six-speed auto transmission, providing an official fuel economy rating of 6.1L/100km in the manual and 6.6L/100km in the auto.
The Accent SR joins the recently introduced i30 SR as part of Hyundai's new sporty lineup. Prices for the new model are as follows (excluding on-road costs):
2013 Hyundai Accent SR hatch six-speed manual – $18,990
2013 Hyundai Accent SR hatch six-speed auto – $20,990