Last week Holden gave us some confirmation there is a going to be a celebratory last hurrah Commodore to send off the nameplate before local production ends in 2017. A trademark application has now been found suggesting it could be called the Bathurst edition.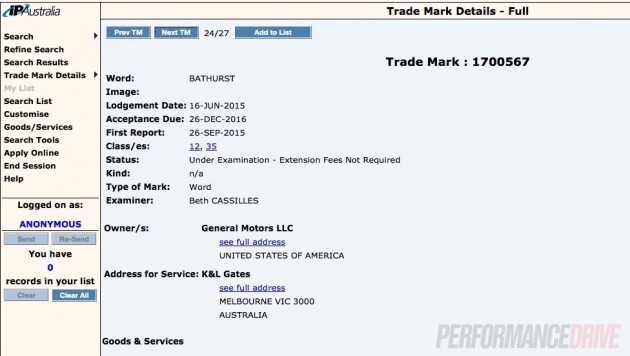 According to the IP Australia government website ("enter as guest" to search), General Motors registered to trademark the "BATHURST" name in June last year. It says the trademark was filed under class 12 and 35, with 12 covering motor vehicles, cars, and parts and accessories.
Like the GTSR trademark that was found late last year, the Bathurst trademark doesn't necessarily confirm that a production car is definitely on the way ready to wear the name. Holden could simply be protecting the name from others for a potential product or accessory in the future.
However, Holden's director of communications Sean Poppitt said to PerformanceDrive last week that it has "a few exciting options on the table" in regards to sending off the Commodore. It doesn't take a genius to put the two together and come up with a reasonable speculation that we could be about to welcome a 'Commodore Bathurst' of some sort.
What would the Bathurst name mean to the Commodore and its fans? Well, Bathurst, as any Australian will tell you, is THE motor race of the year. It is the most famous battle between Ford and Holden, and, more specifically in recent times, the most famous battle between the Commodore and Falcon.
A Holden Commodore Bathurst edition could be a great way to say goodbye to not only the Commodore but also the Commodore in V8 Supercars. Further details are yet to be confirmed.
As far as we know there isn't going to be any major power upgrades for the "exciting" plans. Instead we'll probably see a range of cosmetic enhancements and bespoke trimmings, and possibly some light under-bonnet tuning. In fact, the special Bathurst specification could be a unique option pack that buyers can apply to a range of Commodore models.
It is still early days yet and all purely speculation. Holden is likely to announce something this year though. Holden might even decide to give Ford its time to shine with the Falcon XR Sprint as a form of respect before announcing its goodbye plans. We'll keep an eye on it and keep you updated in any case. Feel free to give us your thoughts below. Would you like to see a Commodore Bathurst edition?
Thanks to Peter for the tip-off