This is going to be one cool little car when it hits the market later this year. It stems from the Honda Urban EV concept, but this new Honda e Prototype, just revealed, is a pre-production example of what to expect in showrooms.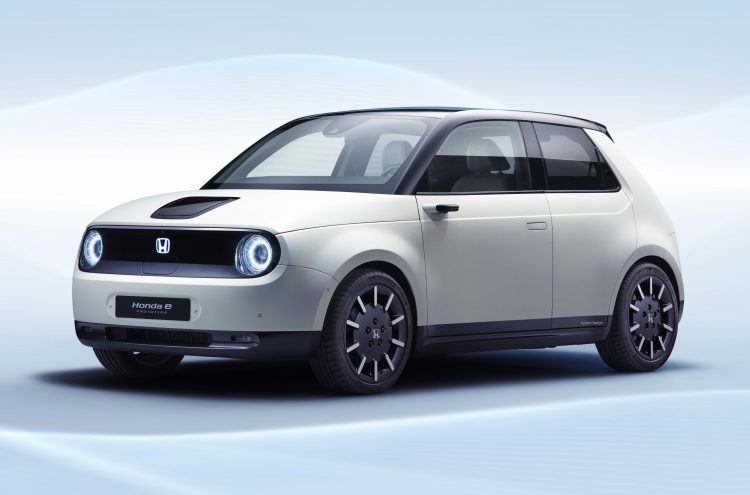 Honda will give the e Prototype an official debut at the Geneva motor show early next month. Although it is still a prototype, many design and technical details are set to carry over to the production version. It's all being planned under Honda's 'Electric Vision' strategy for the European market.
The company says the e Prototype has been designed with a focus on functionality and purpose. It's also a hark back to the very first generation Civic in terms of styling, featuring clean shapes and contours, and stepless A-pillars.
At the front is a pair of circular headlights, thought to be a direct descendent to those on the original Civic, connected by a blacked-out panel in place of a grille. In the middle of the bonnet area is the charging port, for convenience, while small cameras replace conventional side mirrors.
Underneath it all is a fresh EV-specific platform. It showcases a relatively long wheelbase, for its size, with wide tracks and short front and rear overhangs. These proportions give it a solid, rally-like stance on the road, while providing "dynamic driving characteristics", according to Honda.
In terms of the fully electric powertrain, the e Prototype promises a range of over 200km, and fast charge functionality so users can recharge up to 80 per cent battery charge in 30 minutes. Interestingly, the electric motor, of unknown output at this stage, drives the rear wheels. So, it's rear-wheel drive – it doesn't get much cooler than that.
As for the interior, much of the original Urban EV concept's form is surprisingly carried through. You have the digital screens which display views from those side cameras, while the dash is really clean and simple, housing three main digital screens (that's five, all up). As we suspected from the teaser of this e Prototype, the hatch is a five-door, unlike the three-door Urban EV concept. This should open up some room inside for at least four people.
This is definitely one to look forward to. Unfortunately for us in Australia, it looks like the production version might be set for Europe only. Production is scheduled to begin "later this year", Honda says.