McLaren's exclusive Special Operations division (MSO) has revealed a unique design package concept based on the new 650S and 650S Spider. Some of the parts are available for custom order.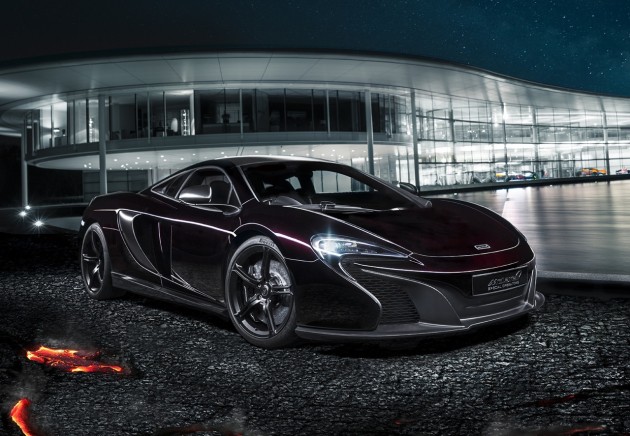 Interestingly, McLaren is showing the unique concept at various places throughout China, a market where luxury and sports car sales are really booming at the moment.
The McLaren 650S MSO concept showcases a number of styling tweaks, including a freshly-designed carbon fibre rear diffuser setup and some MSO side blades. There's also a sinister black theme given to almost every area.
The distinct stealth-like character is amplified by the Agrigan Black exterior colour. Not only is it black, it offers a dramatic colour flip with deep rudy red metallic flakes, depending on the angle you glance at it and direct sunlight.
To top it off, most accessories and minor components are coated in satin black, including the engine covers, side blades, and lightweight 650S alloy wheels that wear Pirelli P Zero Corsa tyres.
The 3.8-litre twin-turbo V8 remains untouched, producing 478kW and 678Nm. It's capable of sprinting from 0-100km/h in only 3.0 seconds, and 0-400m in just 10.5 seconds.
Inside, it's a similar theme. There's a set of fixed-back carbon fibre racing bucket seats, similar to those found in the P1 hypercar. These provide an overall weight saving of 15kg. A number of items are also satin carbon fibre, with many of the switches and controls coated in gloss black to match.
This particular concept is a one-off at this stage but McLaren is gauging the public's reaction and could soon introduce the package as part of the showroom lineup in the future. The MSO rear diffuser and side blades are available now as an optional extra on the 650S and 12C.