Porsche's highly-anticipated 911 R will reportedly debut at the upcoming Geneva Motor Show in March. It's expected to be a limited edition model based on the GT3, only designed more for road driving than track driving.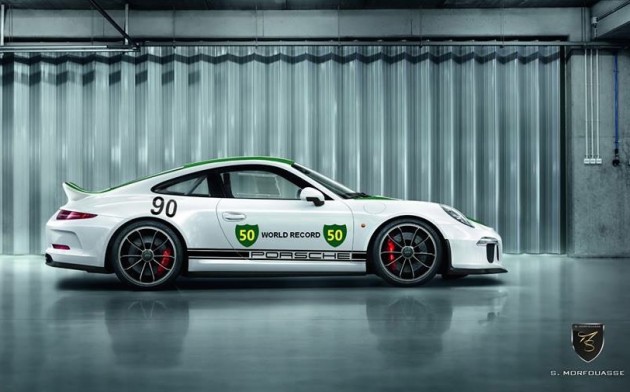 We first heard news about a 911 R – name yet to be confirmed – back in October last year. The idea behind it is to provide customers with a raw 911 with similar credentials as the GT3, only without the flamboyant styling and hardcore interior.
Speaking with Motoring recently, Porsche 911 product line boss August Achleitner said, "Come to Geneva and you'll find out". This was an answer to a question pitched about the rumoured new variant.
No firm details or specifications were confirmed by Achleitner, but as far as we know it will come with the same 3.8-litre flat-six engine as featured in the GT3. It produces 350kW and is able to hit an ear-pinching 9000rpm. Another possibility is the 4.0-litre flat-six from the GT3 RS, which generates 368kW.
High performance brakes, suspension, and some aero parts including a hydraulic rear wing are likely, however, the cabin is set to offer the bare essentials without going to the more extreme lengths of the GT3 which uses bucket seats and an optional roll cage.
This will be one of the last naturally aspirated, 'pure' 911s to be released as Porsche, like many other manufacturers, turns to turbocharging in the hunt for improved efficiency and reduced emissions. All 911 variants except for the GT3 are now turbocharged.
Only a limited number of the 911 Rs are set to be produced, however, there is speak of some of these heading to Australian dealerships. If you're interested we'd suggest you duck into your nearest Porsche dealer now to place an enquiry as these are expected to sell out very quickly indeed.
We'll keep you updated with any more info that we hear. We suspect Porsche will unveil the car just prior to the Geneva show, starting March 3.
Note: Image rendered speculation only