Ferrari has unveiled the world's first full-scale, full-size, model of a Ferrari F1 car, made almost completely of Lego. The life-size toy was on display at the weekend's 2013 Australian F1 GP season-starter.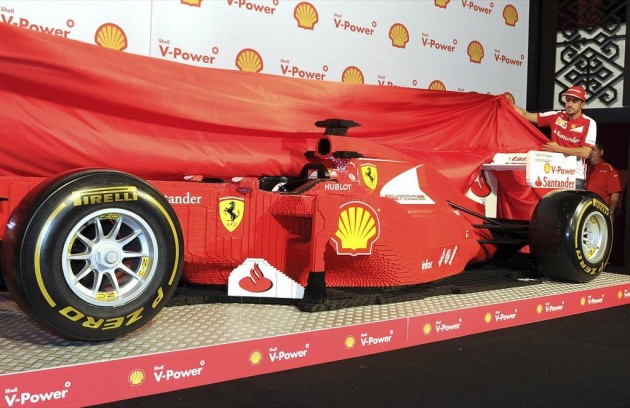 Every aspect of the 2011-spec Ferrari F1 racer is made from toy blocks, including the aerodynamic body, spoilers, and even intricate details such as the steering wheel and side mirrors. The main aspect that's not made from Lego are the wheels and Pirelli tyres.
The car was built to promote a new range of collectable toy cars made in conjunction with Shell Australia and Ferrari. Some of the cars that will hit the market include miniature versions of the classic Ferrari 250 GT, the Ferrari F40, and the Ferrari Enzo FXX.
By the looks of the photos, current Ferrari F1 drivers Fernando Alonso and Felipe Massa don't seem too impressed with the toy – we guess they didn't realise their contracts involved this kind of promo work.
Even still, it took the builders a number of months to piece the creation together. It's unknown what will happen to the car after its marketing tours are finished.