Ford has today opened up an online catalogue of its cars available for 3D printing, via its new 3D Store.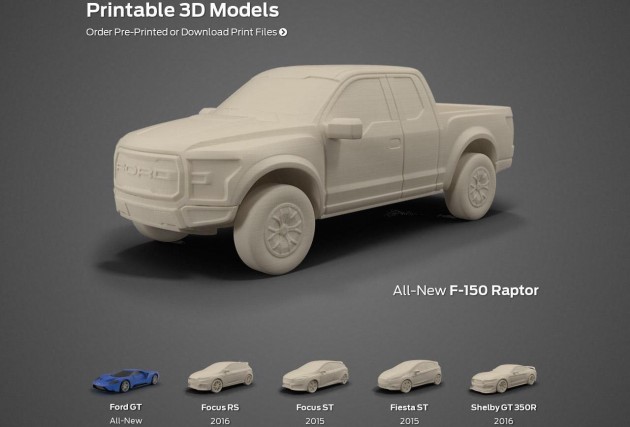 Each car costs US$4.99, and the range of models available to print include the F-150 Raptor, Shelby GT350R, Fiesta ST, Focus ST and the new Ford GT. Pre-printed 3D models can also be purchased for $39, as produced by TurboSquid.
Ford Global Brand Licencing Manager Mark Bentley said today in a statement:
"3D printing at home is a growing trend, and it makes sense for us to offer our customers a chance to make their own 3D Ford models."
Ford uses 3D printing for rapid-prototyping of its parts as 3D printing marches ever closer to use in mass production. Koenigsegg uses 3D printing for parts as well, such as the titanium-alloy exhaust tips on the One:1 hypercar.
Local Motors also showed off its 3D printed Strati in 2014. The Strati took 44 hours to print, and is known as the first completely 3D printed car, except for the steering wheel and electrical components.