There's a new TVR British sports car on the way, as you may have heard, underpinned by Gordon Murray's innovative iStream carbon fibre platform.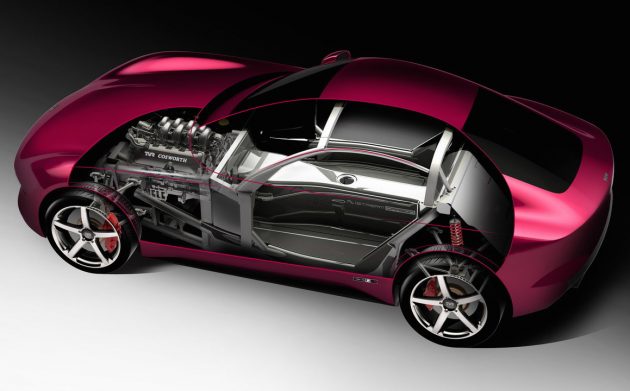 TVR is yet to unveil the new model but it has released a few teasers including this new one that shows a cross-section of the body and iStream chassis. This is the interchangeable chassis Gordon Murray came up with, using his extensive experience in F1 development.
As such, the carbon fibre layout is expected to help the new TVR revive some of the traditional lightness classic TVRs were renowned for. A kerb weight of around 1150kg has been mentioned.
According to the rumours the new TVR will bring back the Griffith name, sporting a similar two-door coupe layout with a front-mounted engine, rear-wheel drive, and a manual transmission. Speaking of which, the teaser image clearly shows the Cosworth-labelled V8, based on Ford's 5.0-litre Coyote unit. It's expected to churn out 350kW-plus.
TVR is planning to build just 500 examples of the new model in a special 'launch edition' package. It will bring a number of exclusive highlights to the car that the regular 'Griffith' models won't receive.
Production of the new model will take place in the Ebbw Vale Enterprise Zone in South Wales. It has been confirmed the Welsh Government is investing in the carmaker. Les Edgar, Chairman of TVR, said:
"This is a fantastic opportunity both for TVR and the Welsh Government. South Wales is becoming a major hub for automotive and motorsport technology and development and the area is a serious opportunity for business development and job creation."
A full debut will take place later this year, with deliveries scheduled to kick off in 2017.