Following the unveiling of the 2015 Hyundai i30 and the i20 Coupe, Hyundai has revealed the facelifted i40 wagon and sedan. It showcases a freshened up design inside and out, and updated powertrains for improved economy.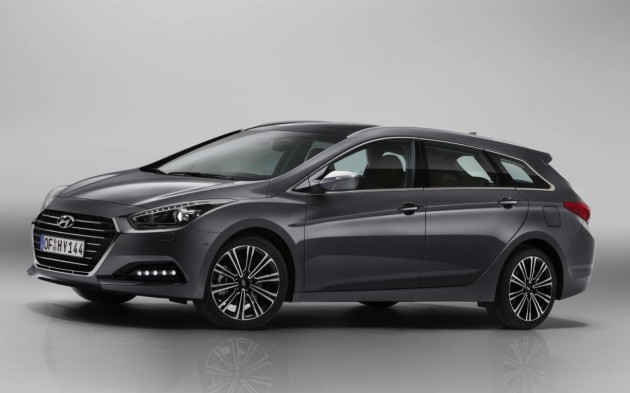 Starting with the design, Hyundai has sharpened up the details so now there's a slightly more aggressive front bumper bar and lower lip area, a more sophisticated front grille in the traditional hexagonal shape, and a sprinkling of LED running lights along the headlights and down in the fog light clusters.
At the back there's a set of updated taillights, a revised bumper bar, and minor trimming changes. Hyundai has also updated the wheels, with 16-inch and 18-inch items available, depending on the variant level.
Aside from the cosmetic stuff, Hyundai says it has improved cornering ability and overall agility. Some models, depending on the market, will come with a technology called Advanced Traction Cornering Control which works similar to a limited-slip differential.
Hyundai is also introducing a technology called Rear Electronic Damping Control System. This offers the driver multiple modes that all alter the rear suspension, steering, and transmission sensitivity. The system has been influenced by technology from the smart new Genesis sedan.
In terms of powertrain changes, the 2015 i40, at least in European markets (Australian specs yet to be announced) will come with two diesel engine options, both surpassing Euro 6 emissions regulations.
The entry variant comes with a 1.7-litre four-cylinder producing 85kW and 280Nm, while the top variant gets a higher output of 104kW and 340Nm. Opting for the top model gains access to Hyundai's new seven-speed dual-clutch automatic option, which isn't offered on the entry model. A six-speed manual is standard on both, and both come with stop-start to aid fuel economy.
Australian specifications and details are still yet to be confirmed for the i40 facelift. Expect a showroom entry some time mid next year though.