With all but two of the 500 FPV GT Fs accounted for, Ford has listed build model numbers GT F 001 and GT F 500 up for auction on eBay, with all proceeds going to the National Breast Cancer Foundation.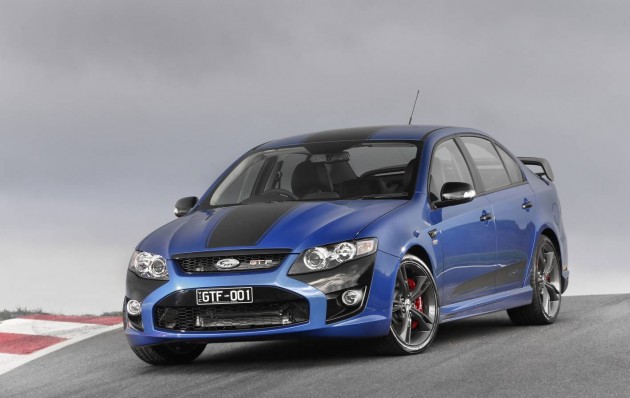 The GT F is the most powerful Falcon ever produced, sporting a 5.0-litre supercharged V8 that produces 351kW and 570Nm. Depending on climate conditions, the engine and supercharger can activate an overboost function that can boost power to as much as 410kW. The 351kW figure pays homage to the famous 351-cubic-inch engine found in models such as the Ford Falcon XY GT.
The GT F shares its suspension attributes and staggered wheel fitment with the 2012 GT RSPEC; upgrades included bespoke sports suspension and wider 275mm rear tyres.
The Kinetic Blue with matte black stripe GT F build number 001 was used as the hero car for the GT F launch program and social media campaigns. It was also used as an evaluation vehicle by motoring publications around the country. With only 63000kms on the clock, four new tyres and a full service carried out, it's basically a brand new car. The car will come with its GTF001 Victorian registration plates.
The GT F build number 500 up for auction is yet to be constructed, and will be the last ever FPV to be made in Australia. Unlike the GT F build number 001, it will come as a new vehicle with the winner of the auction to choose the car's colour and stripe combination. Both GT Fs up for auction come with six-speed manual transmission.
To date, Ford Australia has donated $1.2 million towards breast cancer research in Australia since partnering the National Breast Cancer Foundation 12 years ago.
At the time of writing, both auctions have reached more than $120,000. If you'd like to make a bid on either car, head over to the GT F 001 and GT F 500 listings on eBay. Good luck!