A McLaren P1, one of 375 ever made, has spontaneously combusted in the UK, likely torching the hypercar to a pile of ash and vivid blue shards.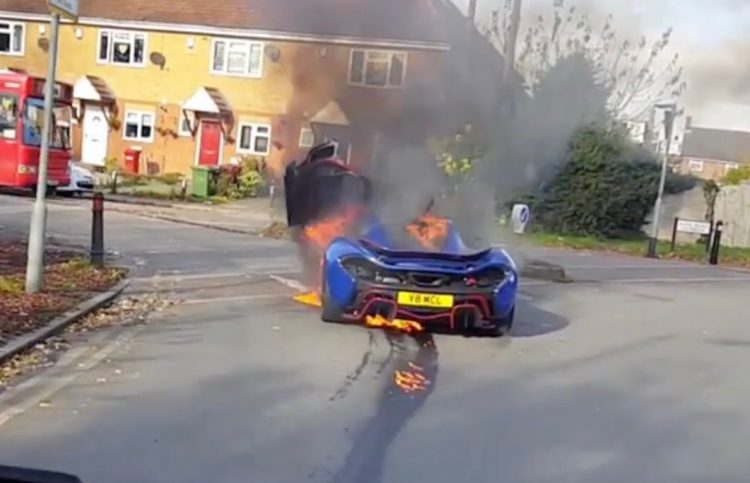 It's understood the McLaren P1 caught fire over the weekend, with a majority of the hot orange floaty stuff coming from the engine area. At this stage it's unclear what caused the fire to start exactly but one could quickly assume the heat of the engine may have sparked something.
An electric spark may have also contributed, remembering the McLaren P1 is powered by a high-tech hybrid system which incorporates a 324-cell lithium-ion battery pack located just behind the cabin. This unit alone produces 131kW, adding to the 3.8-litre twin-turbo V8's 542kW. In other words, there is a lot going on under the skin.
If you look closely in the video below, which surfaced on Instagram, there does appear to be a trail of liquid on the road which is also on fire. This could be fuel or even oil, both of which can easily be sparked up into flames. Fuel usually evaporates pretty quickly though, especially when it's on fire, so we'd be guessing it's some kind of oil.
There are no reports of injuries which hopefully means the driver and any passengers escaped without harm. It's understood the P1 was build plate 341, according to a recent report on The Drive. Take a look at the video below if you feel like being a bit sad today – or happy if you're inclined to schadenfreude.