Ford Australia has the new XR6 Sprint and XR8 Sprint special editions to help customers say goodbye to the Falcon nameplate, and it looks like Holden is planning something to send off the Commodore before its expiry date approaches.
Unlike the Ford Falcon, which goes out on production in October this year, the Holden Commodore is expected to continue on at least until some part of 2017. It has a little more time left to plan last hurrah celebrations, and the good news is, there is something in the works.
Speaking with PerformanceDrive today, Sean Poppitt, Holden's director of communications, confirmed there are plans to send off the model. He said:
"We have a few tricks up our sleeve, a few exciting options on the table. I'm not in a position to talk specifics as you can understand."
Poppitt refrained from going into detail, but it's understood Holden will introduce a strict limited-production version of the VF II Commodore SS featuring various unique highlights.
Can we expect a Falcon Sprint-type approach with big power hikes? It's unconfirmed at this stage but as far as we know it isn't likely to get any serious jumps in power.
Holden only recently launched the VF Series II Commodore, introducing the GM LS3 6.2-litre V8 to the range. It saw power jump from 270kW in the previous auto 6.0-litre V8 models, to 304kW across the board (where a V8 option is available). This engine could be tweaked somewhat to produce slightly more power quite easily, as it is the same engine that was used in previous HSV models that offered 317kW and 325kW.
Instead of outright power hikes though, we can expect more cosmetic highlights and even customisable options to separate the last run of Commodores from the regular lineup, along with bespoke decals and potentially some unique alloy wheels. Holden might even decide to revive an iconic badge from the past.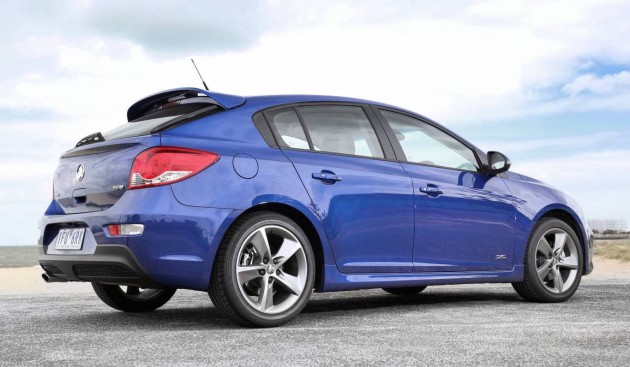 The Commodore isn't the only model that is going out of production in Australia for Holden. We mustn't forget the Cruze is also made here. Will there be a special edition hot hatch Cruze? Poppitt said this is "less likely". Instead, we will probably receive a Z-Series-type approach to send off the locally-made Cruze.
Holden isn't the only GM brand to make the Cruze. It's also made in South Korea, Brazil, Thailand, and the US, among other places, which means the nameplate could live on past 2017 if GM decides to keep it here. Although, the Opel Astra seems a more likely option for us.
More details about the last run of Commodores are expected to be announced later this year.
Note: VF Commodore with existing accessories options shown at top