Plans are afoot for a mid-cycle facelift of the Mk VII Volkswagen Golf. Set to debut at the Geneva Motor Show in March, the revised Golf could reach Australian shores before the end of the year.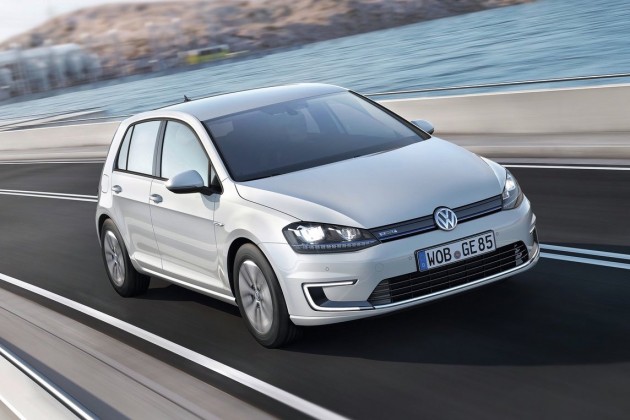 German publication Auto Bild reports the facelift was initially intended for the end of 2016, but has been brought forward. The facelift is said to include aesthetic improvements, including the LED headlights formerly only available on the fully-electric e-Golf, as well as a freshening of grille and trims.
New gadgetry could include the new Passat's digital instrument cluster as an option, a head-up display (HUD), and a revised infotainment unit, perhaps borrowing elements from the e-Golf Touch concept from this month's Consumer Electronics Show (CES) at Las Vegas.
A new range of 1.5-litre turbo-petrol and turbo-diesel engines are currently under development, no doubt fast-tracked by the emissions scandal, while electric (e-Golf, pictured) and plug-in variants (GTE) are sure to receive an upgrade too – the latter tipped to receive the Passat GTE's more potent powertrain (162kW/400Nm vs 152kW/350Nm).
The real story for performance fans though is the production version of the R400 Golf. When this concept was first shown at the 2014 Beijing Motor Show, it sported a 298kW version of the Golf R's 2.0-litre turbo engine, and was said to be capable of a 280km/h top whack. With a 0-100km/h time of 3.9 seconds, this would be more than sufficient to dethrone A 45 AMG, Focus RS and even the in-house Audi RS 3.
VW executives have since talked up the R400's production prospects, but Auto Bild suggests this output could be bumped up to 313kW (420hp), using either the 2.0-litre EA888 or even the Audi 2.5-litre five-cylinder. More details of the facelifted Golf are expected soon.