Two Mercedes-Benz test drivers died in a Mercedes-Benz SLR McLaren crash on Monday, after taking a customer's four-year old SLR for a routine evaluation drive. The crash occurred along a strip of autobahn near Frankfurt.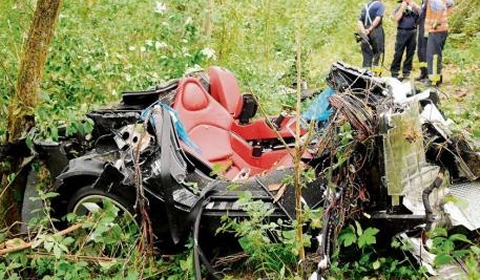 According to a Bild.de report, the drivers were taking the Mercedes-Benz SLR McLaren for a normal highway test at the time of the accident. The report says the two Mercedes-Benz test drivers were travelling through a skinny section of road with an 80km/h speed limit that led onto a wide-open unrestricted autobahn.
Police reports said the SLR McLaren was doing around 300km/h before the driver lost control, sending the SLR into a guard rail. The SLR then catapulted 10 metres into the air and bounced off a series of trees 35 metres down the road, ripping the SLR apart and sending the test drivers free from the cabin. Police spokesman Andrew Beese said,
"The road is a wide open highway without any speed limit. It is eight kilometers long, and has almost no curves."
One of the rescue workers said,
"They were just way too fast."
A spokeswoman said,
"We are deeply concerned about this serious accident. Our thoughts are to the victims and their families and friends."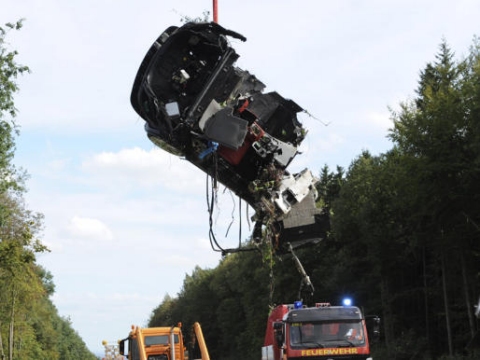 By the look of the images, the Mercedes-Benz SLR McLaren crash was very severe, completely ripping apart the main structure of the body. Both test drivers were killed instantly.
Other SLR McLaren reports:
– Mercedes-Benz SLR McLaren 707 Edition by Wheelsandmore
– Video: BRABUS SLR McLaren does 150km/h in car park