Newly reformed Datsun brand, still owned by Nissan, has unveiled a funky new SUV concept called the GO-cross at the Auto Expo event in India.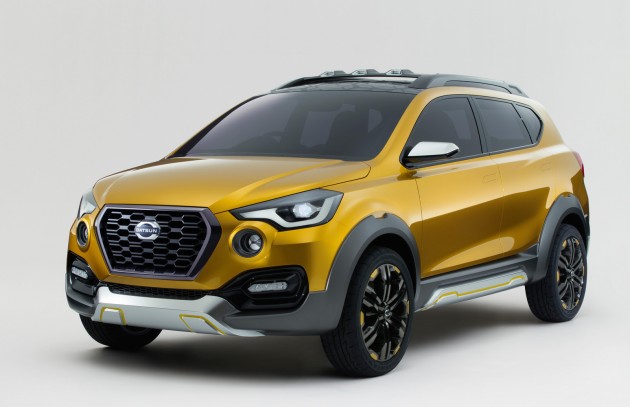 The iconic brand now builds vehicles for emerging markets, and so what better place to unveil the GO-cross than at Auto Expo. It's seen as a potential insight into a future Datsun model for such markets.
Based on the existing Datsun GO compact hatch, the GO-cross is envisioned as a youthful and energetic crossover, featuring pumped wheel arches, fashionable dark alloy wheels, LED lights, a futuristic glass roof, and an integrated front skid plate.
No specifics have been mentioned in regards to the powertrain, however, the regular GO hatch is powered by a 1.2-litre three-cylinder engine producing 51kW and 104Nm. It's designed to be as fuel-efficient as possible rather than offering outright performance.
Even though it is just a concept at this stage, a production model is expected to hit some markets soon heavily inspired by the GO-cross. Datsun executive design director Koji Nagano said:
"Although it is a pure show car at the moment, the Datsun GO-cross Concept is designed to meet the needs and preferences of a new generation of drivers. They are young, ambitious, fun-loving people ready to take the next stop in their lives."