This is it. The new Rimac C_Two supercar. It comes in as one of the most powerful production cars ever conceived, and the quickest production car we've ever seen.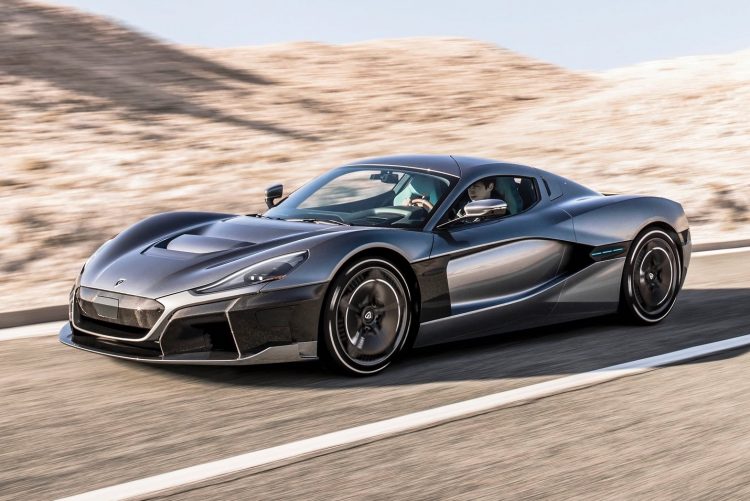 Starting with the design. It is, as expected, a more dramatic and sophisticated interpretation of the Concept_One model. Primarily, it showcases more aggressive area elements such as a large rear wing, active flaps including in the bonnet to guide airflow, and even a set of specially-made aero wheels.
Aerodynamic efficiency is important, especially in electric vehicles to help prolong charge, and the C_Two has a drag co-efficient of 0.28. Most of the body and structure is made from carbon fibre for strength and lightness as well, with a weight stamped at 1950kg.
Getting to the most exciting part though, the powertrain. Power comes from a 720-volt electric system drawing power form a lithium manganese nickel battery, with a capacity of 120kWh. Output is rated at a mind-blowing 1408kW and 2300Nm.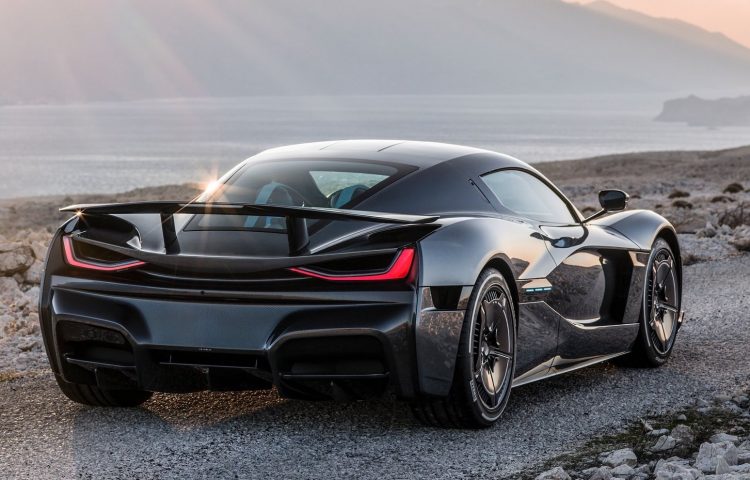 Interestingly, this monumental power is sent through two independent single-speed gearboxes for the front axle and two independent two-speed gearboxes for the rear axle, providing all-wheel drive. Driving range is listed at 650km (NEDC).
Across the tarmac the machine can accelerate from 0-100km/h in just 1.97 seconds, and from 0-300km/h in just 11.8 seconds. The quarter mile comes up in an astonishing 9.1 seconds, with a top speed of 412km/h. These are some amazing figures for a production car, let alone an electric one.
Inside, Rimac has turned up the luxury for the new model, adding suede and carbon fibre for the decor, with a large touch-screen media interface and fully digital instrument cluster for the driver. There's also plenty of storage space, wireless phone charging and easy access and exit thanks to wide door opening.
Rimac is planning to build 150 examples of the C_Two for the market, with the first deliveries set to commence in 2020 – perfect timing to line up against the Tesla Roadster 2.0, which is set to offer similar albeit slightly less thrilling performance in comparison as it turns out. Check out the full specs below:
All-electric two-seat supercar
Number of units: Limited to 150 units
Homologation: Full global certification, including USA
Production: 2020
Performance
Power: 1408 kW / 1914 hp
Motor torque: 2300 Nm
Wheel torque 1st gear: 17,047 Nm
Wheel torque 2nd gear: 8227 Nm
Acceleration: 0-60 mph 1.85 seconds
Acceleration: 0-100 km/h 1.97 seconds
Acceleration: 0-300 km/h 11.8 seconds
1/4 mile time: 9.1 seconds
Top speed: 412 km/h / 258 mph
Range: 650km NEDC
Chassis and structure
Structure: Carbon-fibre monocoque with integrated structural battery pack and bonded carbonfibre roof. Structural reinforcements and crumple-zones for front, rear and side-impact. Carbon-fibre rear subframe. Front and rear aluminium crash structures.
Suspension: Double-A-arm wishbone suspension with electronically adjustable dampers and active ride-height.
Front brakes: CCMR 390mm six-piston
Rear brakes: CCMR 390mm six-piston
Powertrain
Powertrain: Four independent permanent-magnet electric motors, four-wheel drive with software-controlled torque vectoring.
Rear gearboxes: Two independent two-speed gearboxes
Front gearboxes: Two independent single-speed gearboxes
Cooling: 7 independent cooling systems – all fans and pumps running on 48V
Battery
Capacity: 120 kWh
Chemistry: Lithium Manganese Nickel
Cell format: Cylindrical, 21700 form-factor
Number of cells: 6960
Maximum voltage: 720V
Cooling: Liquid
Fast charge: 250kW DC Combo (<30 min 0-80% SoC)
On-board charging: 3-phase 22 kW
Aerodynamics
Active elements: Front diffusors, rear diffusor, rear wing, bonnet turning vane, underbody inlets and outlets
Cd in low-drag mode: 0.28
Control: Central control system coordinating torque vectoring, active aerodynamics and suspension
Safety
Airbags: Driver airbag (Steering wheel), passenger airbag, side airbag (lamella bag installed in the door at belt line)
Seatbelt (complete system)
Airbag control unitL (ECU) and crash sensors
Active safety: Collision risk prediction and Automatic Emergency Braking with evasive control (steering and motion planning) for collision avoidance
Dynamic systems: Torque Vectoring with traction control and stability control, integrated with hydraulic ESP and ABS system.
Structural: Pre-preg monocoque passenger cell with aluminium and carbon-fibre crash structures and deformation zones.
ADAS
8x cameras (including front stereo vision)
1 or 2 Lidar
6x radars
12 ultrasonic
Dimensions
Length: 4750mm
Width: 1986mm
Height: 1208mm
Wheelbase: 2745mm
Weight: 1950 kg