Preliminary details and a side profile image of the Mazda CX-8 have been released ahead of its Japanese market entry before the end of this year. This follows an interior reveal in April.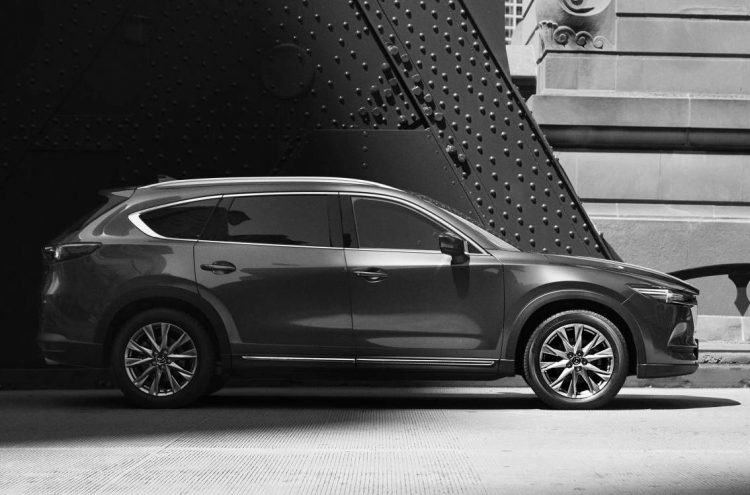 The CX-8 sits, as the names suggests, somewhere in between the CX-5 and the CX-9. Mazda is calling it a new kind of crossover for people who "appreciate quality and need to seat more than five" passengers. In fact, Mazda says adults can "sit comfortably" in the third row.
Seating capacities will span from six to seven, depending on the variant and the buyer's preference, with a 2930mm wheelbase standing the same as the CX-9. Overall length stands at 4900mm, about 175mm shorter than the CX-9, and with an 1840mm width compared with the CX-9's 1969mm stance.
Mazda confirms it will be offering the new model with its 2.2-litre turbo-diesel four-cylinder engine, paired with a six-speed automatic transmission. It's unclear at this stage if it will be front-wheel drive or on-demand all-wheel drive.
As for the styling, it is very similar to the latest CX-9 offered in Australia. The CX-9 is not currently offered in Japan though, hence the CX-8 will be exclusively available in its home market. You'll have to be a keen Mazda design observer to notice the differences, mainly in the front and rear overhangs and the rear D-pillar and quarter window design.
Designers have added a dimension of maturity to Mazda's Kodo–Soul of Motion styling philosophy, the company says, with an edgier look and a slightly more focused and aggressive front end.