Citroen has unveiled an undeniably eye-catching latest model, called the E-MEHARI. It's a tribute to the E-MEHARI of the 1960s.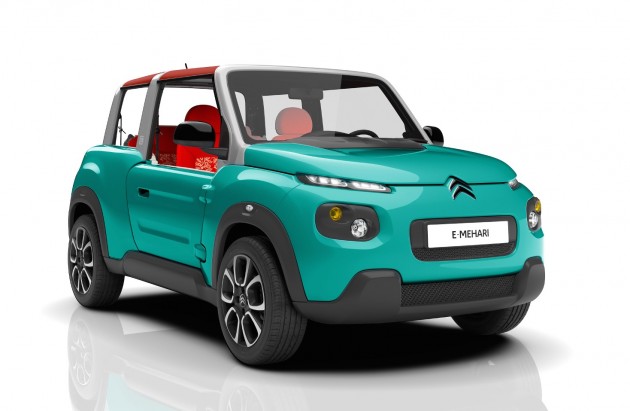 Citroen teamed with French investment group and electric car maker Bolloré, responsible for the Bluesummer, the world's first all-electric convertible, to come up with the unique open-top SUV.
The E-MEHARI is based on the Bluesummer's platform, but features distinct Citroen styling carried over from the Cactus M concept car.
The four-seater convertible features a thermoformed plastic body, an easily-removable roof, silver windscreen pillars, plastic body cladding and alloy wheels. Inside, the rear bench seat folds flat, with the option of either beige or orange/red waterproof plastic upholstery.
Propulsion comes from a 30kWh battery pack, driving a 50kW electric motor that takes the little crossover up to speeds of 110km/h. It also offers a range of over 200km on a single charge.
Oncee depleted, the battery pack takes around eight hours to fully recharged from a 16-amp socket, or 13 hours using a 10-amp system.
Production is expected to begin in spring next year, at PSA Peugeot-Citroën's plant in France.