This is it. The facelifted 2018 Mazda BT-50, which has been redesigned exclusively for the Australian market. It goes on sale in May, and will come in as the second and most extensive update for the ute since the current-gen's introduction in 2011.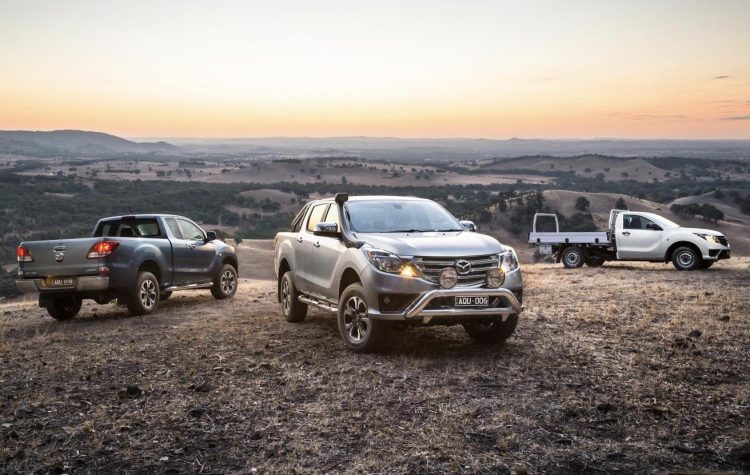 Mazda fans will instantly notice the new-look front end which now incorporates the company's inverted front grille design, with a new front bumper providing a stronger face with squared off edges and new trapezoidal air intakes in the corners.
XTR and GT grades get a more premium chrome grille with a dark grey lower bumper bar insert, leaving the XT with satin black grille fins and a black bumper insert. All variants carry over the same rear end design from before.
Equipment levels have been boosted across the range. All models now come with Apple CarPlay and Android Auto connectivity with a new touch-screen system, while the GT gets a chrome sports bar with integrated LED stop lights, a heavy-duty tub liner, tailgate scuffs, locking tailgate and a 12-volt socket and light in the tray area.
At the entry end of the range the XT gets a rear-view camera as standard, which is view through the 7.0-inch Alpine infotainment system. Just like the outgoing model, most variants are powered by Ford's 3.2-litre turbo-diesel five-cylinder engine producing 147kW, although a 2.2-litre turbo-diesel four-cylinder developing 110kW is presented for the entry variants. Speaking about the update, Mazda Australia managing director, Vinesh Bhindi, said:
"We know Australian customers want all this and a tough looking exterior, so we heeded demand and worked with local engineers to refresh the front-end and toughen up the BT-50. The utility segment is a huge priority in Australia and for Mazda; we're always looking to improve and enhance our product offering, to remain competitive and appealing to our customers."
Showroom entry officially commences in May, with prices starting from the following (drive-away):
4×4
2018 Mazda BT-50 6M 2.2L single C/CH XT 4X2 – $28,990
2018 Mazda BT-50 6A 2.2L single C/CH XT 4X2– $32,205
2018 Mazda BT-50 6M 3.2L single C/CH XT 4X2 – $32,205
2018 Mazda BT-50 6M 3.2L freestyle C/CH XT 4X2 – $34,490
2018 Mazda BT-50 6A 3.2L freestyle C/CH XT 4X2 – $36,490
2018 Mazda BT-50 6M 3.2L dual C/CH XT 4X2 – $36,198
2018 Mazda BT-50 6M 3.2L dual cab utility XT 4X2 – $35,990
2018 Mazda BT-50 6A 3.2L dual cab utility XT 4X2 – $37,990
2018 Mazda BT-50 6M 3.2L dual cab utility XTR 4X2 – $39,990
2018 Mazda BT-50 6A 3.2L dual cab utility XTR 4X2 – $41,990
4×4
2018 Mazda BT-50 6M 3.2L single C/CH XT 4X4 – $37,990
2018 Mazda BT-50 6A 3.2L single C/CH XT 4X4 – $39,990
2018 Mazda BT-50 6M 3.2L freestyle C/CH XT 4X4 – $40,490
2018 Mazda BT-50 6A 3.2L freestyle C/CH XT 4X4 – $43,490
2018 Mazda BT-50 6M 3.2L freestyle CAB UTILITY XTR 4X4 – $45,990
2018 Mazda BT-50 6A 3.2L freestyle CAB UTILITY XTR 4X4 – $47,990
2018 Mazda BT-50 6M 3.2L dual C/CH XT 4X4 – $41,198
2018 Mazda BT-50 6M 3.2L dual cab utility XT 4X4 – $40,990
2018 Mazda BT-50 6A 3.2L dual cab utility XT 4X4 – $42,990
2018 Mazda BT-50 6M 3.2L dual cab utility XTR 4X4 – $46,990
2018 Mazda BT-50 6A 3.2L dual cab utility XTR 4X4 – $48,990
2018 Mazda BT-50 6M 3.2L dual cab utility GT 4X4 – $49,990
2018 Mazda BT-50 6A 3.2L dual cab utility GT 4X4 – $51,990