The production version of the BMW X5 eDrive concept has been revealed, called the X5 xDrive40e. It's the first plug-in hybrid BMW, and the first BMW hybrid to feature a 2.0-litre engine.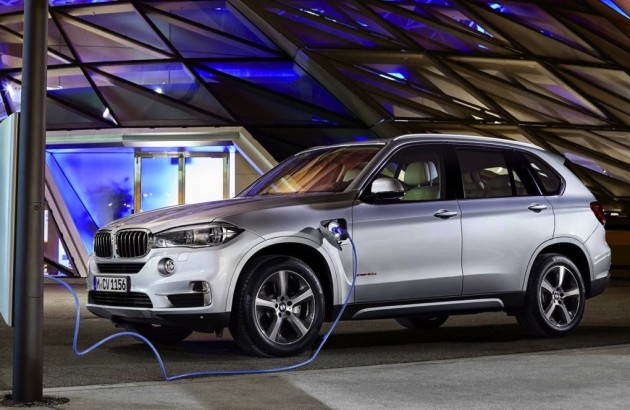 This isn't an 'i' model, like the i3 and i8 which are predominately electric vehicles, and nor is it an ActiveHybrid like the 3 and 5 Series. Instead, the xDrive40e features a unique 2.0-litre turbo-petrol four-cylinder and 9kWh electric motor combination.
For the petrol element, the 2.0-litre is the familiar 180kW and 350Nm tune as seen in many current BMW '28i' models. An electric motor producing 83kW and 250Nm results in a combined output of 230kW and 450Nm.
Unlike most hybrid vehicles on sale, the xDrive40e uses a conventional eight-speed automatic transmission instead of a boring CVT unit. This helps the big SUV scoot off from 0-100km/h in 6.8 seconds, with a top speed limited to 210km/h.
Interestingly, the new model can be driven on electric power alone for a range of around 31km. In this mode it has a top speed of 120km/h. This mode is perfect for daily commuting while using zero petrol. With a regular power socket, an empty-to-full recharge takes 3 hours and 50 minutes, or 2 hours and 45 minutes with an optional BMW i Wallbox.
In terms of fuel economy, the xDrive40e offers a remarkable average consumption of just 3.4L/100km. This is superb considering the vehicle weighs a hefty 2230kg. Some of the extra weight is due to the battery pack which is installed under the cargo area.
Speaking of which, cargo space is rated at 500 litres. It can be expanded to 1720 litres with the rear seats folded down. The rest of the interior is typical BMW X5 luxury only with a number of special functions for the driving modes and power consumption displays.
The X5 xDrive40e will go into production later this year at the company's Spartanburg facility in the US. BMW Australia is yet to confirm any local details.