Four special Scion iQ shows car are preparing for their 2011 SEMA debut; the Scion iQ-RS, Scion iQ RX, Scion iQ-MR and a unique Scion iQ chop top by Pit Boss Cartel.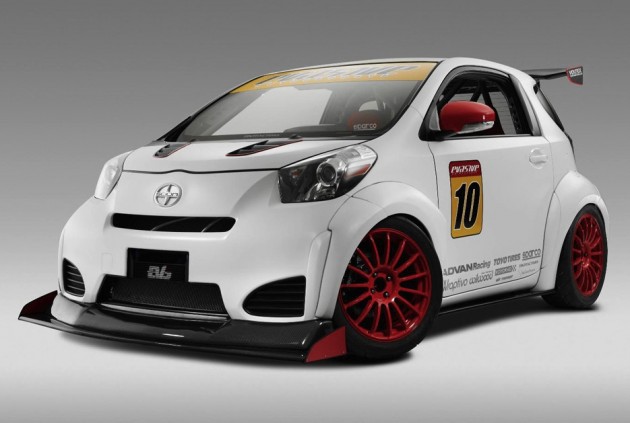 Toyota US brand, Scion – a brand targeted at the younger generation – is looking make a big statement the 2011 SEMA Show with these four Scion iQ concepts. Each version will be on display as part of the Tuner's Challenge segment of the show.
In standard form, the Scion iQ is pretty much a rebadged version of the Toyota iQ, which is a fuel-efficient city car. Evasive Motorsports, Jon Sibal and Tatsu have gone all out on these four SEMA special Scion iQ show cars, each offering varying degrees of applied tuning.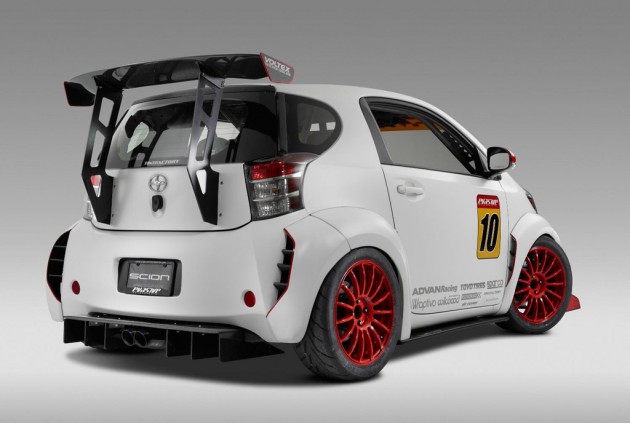 The Scion iQ-RS goes for the full racing treatment, donning an aggressive bodykit with chunky front and rear bumper bars. The Scion iQ-RS also features a massive rear wing that is secured by two large braces that extend down the hatch. Other features include Air Runner suspension with Advan Racing alloy wheels, a stripped out interior, and a set of Sparco race seats.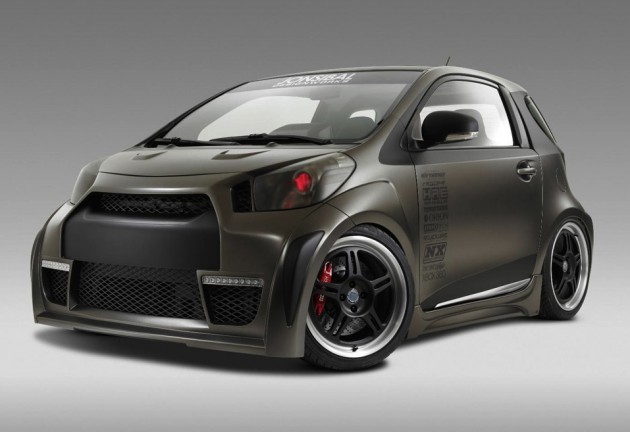 Next up is a creation by Jon Sibal. Called the Scion iQ RX, the tuned version will feature a full Veilside bodykit painted in matt grey with bronze pearl. In terms of engine performance, the Scion iQ RX features a Nitrous Express injection kit to spice things up a bit. It also gets 18-inch HRE alloy wheels and Air Runner suspension.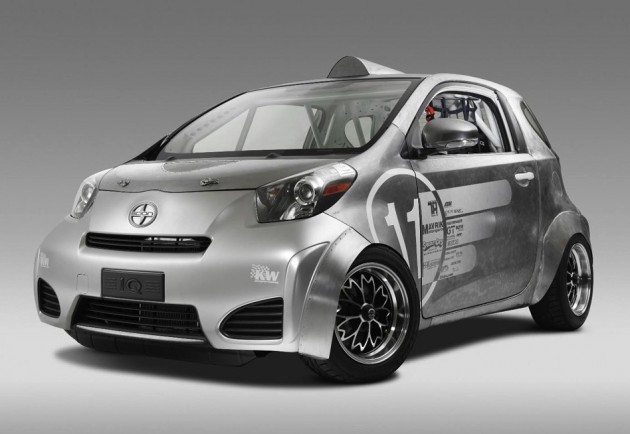 Out of the three performance-oriented Scion iQs to be on display, the Scion iQ-MR is perhaps the most extravagant. It features a fully rebuilt engine which is shifted to a mid-mount position sending power to the rear wheels. The iQ-MR also features 16-inch Sakura allow wheels and a custom bodykit.
Lastly is this unique Scion iQ chop-top built by Pit Boss Cartel. It features shortened doors with high sill panels and a custom roll bar and speaker-filled interior. There's also two spare wheels carried in the rear, which hint at a possible pit car theme for the car.
All these, and plenty more, will be on show at the 2011 SEMA event in Las Vegas, starting tomorrow. Stay tuned for loads of coverage.