Images of the new BMW X4 concept have been leaked online ahead of the SUV's possible debut at the Shanghai Motor Show later this month. This is the first time such a model has been seen.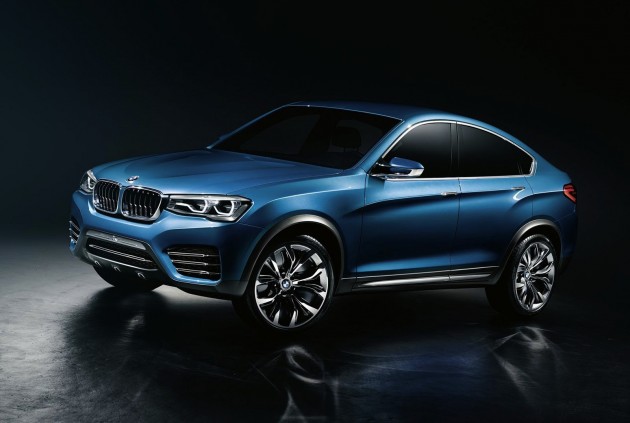 BMW has previously stated that it is working on introducing an X4. Based on the X3 SUV, the X4 will sit underneath the larger X6, which is based on the X5 SUV. The X4 takes on the new theme of being a sleek four-door coupe while also offering SUV off-road capabilities.
As far as we know, powertain packages are set to mimic those found in the X3, including a top-level 3.0-litre turbo inline six with 225kW, down to a 2.0-litre turbo four-cylinder with 180kW. A range of turbo-diesel options is also likely to be part of the mix.
For now, BMW is expected to simply show off this concept version. It includes grey wheel arch extensions for that rugged look, LED headlights in the shape of the new 3 Series items, a muscly front end, and sculpted dual exhaust tips at the back.
The new model is expected to go on sale in 2014. The Shanghai show starts on April 20.
UPDATE: BMW has now officially announced the concept will debut at the 2013 Shanghai Motor Show in a few weeks. The company has refrained from revealing specifications at this stage.