BMW is getting ready to unveil the first-ever X3 M and X4 M performance SUVs, sending out this aurally-tantalising teaser video to keep the excitement rolling.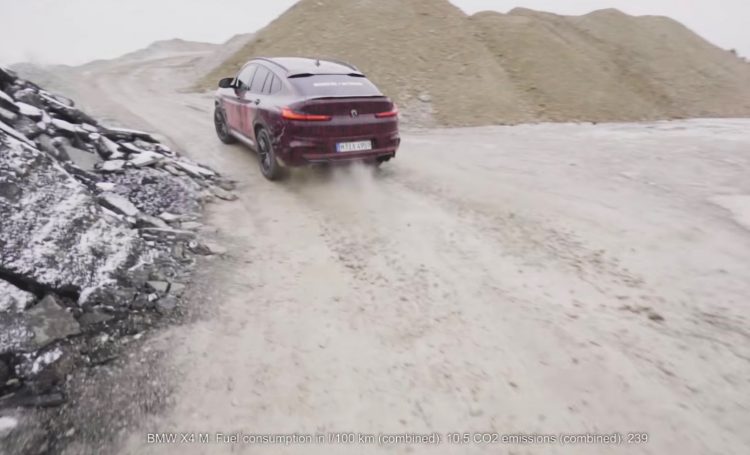 In the video we get a few very quick glimpses of both the X3 and X4 M, although they are wrapped in a psychedelic colour scheme. We also get to hear the two beasts as they thrash around some sort of quarry in the dirt.
So, what hard details are confirmed in the latest teaser? Well, frankly, nothing. Actually, that's a lie. The Facebook post where the video appears has some details about fuel economy. It looks like they will both offer an average consumption of 10.5L/100km, while emitting 239g of CO2 per kilometre.
We still don't know for sure what the engine is, but all signs point to the BMW M 'S55' 3.0-litre twin-turbo inline six from the M3 and M4. There has been rumours the output could be turned up to around the 338kW mark, like in the M4 CS, with a potential Competition version offering up to 373kW.
BMW M is working on the next-gen M3 which is set to receive an evolution of the S55 unit, apparently called the S58. There is a possibility these two SUVs could debut that engine before the M3/M4 gets it. If you cast your mind back to the F10 BMW M5 from 2011, it came out with an evolution of the 'S63' 4.4-litre twin-turbo V8 which actually debuted a year earlier in the X5 M of 2010.
Whatever it ends up being, both the X3 M and X4 M are expected to come in as some of the fastest SUVs in the segment. They will face some tough competition, with the 375kW Alfa Romeo Stelvio QV, the 404kW Jaguar F-PACE SVR, and the 375kW Mercedes-AMG GLC 63 breathing heavily in their faces.
An official public debut is likely to take place at the Geneva motor show in March, however, an earlier online reveal could be a nice treat. Check out the video below for more.