Tesla is planning the release of its enhanced Autopilot system in "about 3 weeks", according to CEO Elon Musk.
The suite is set to be joined by incremental updates on a monthly basis, downloaded via the car's computer system via Wi-Fi.
As it stands, a Tesla vehicle sold today comes with the hardware capabilities for advanced, autonomous driving, but are currently lacking in the software department. According to a tweet from Tesla's CEO Elon Musk, that is about to change in the next three weeks.
In reply to Edward Sanchez's question on Twitter: "Got the Model S with new hardware. Upset that it has all these missing features. Know when 8.1 is coming out? Thanks!"
Musk replied: "about three weeks and it will get rolled out incrementally in monthly releases."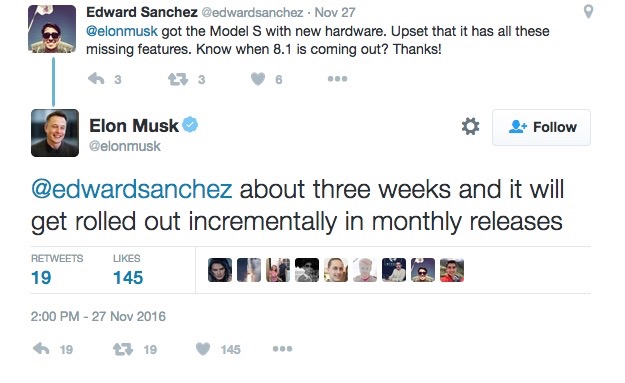 Version 8.1 of the Autopilot system has capabilities that Tesla says falls under the 'Enhanced Autopilot' system. In a previous statement, Tesla said of the new capabilities:
"Enhanced Autopilot adds these new capabilities to the Tesla Autopilot driving experience. Your Tesla will match speed to traffic conditions, keep within a lane, automatically change lanes without requiring driver input, transition from one freeway to another, exit the freeway when your destination is near, self-park when near a parking spot and be summoned to and from your garage."
It is also expected that Tesla will package the automatic on-ramp to off-ramp function for merging onto highways, as well as the autosteer, and smart summon features into the suite. Whether they will be included in the initial offering or made available as a monthly update is unknown at this stage.
Tesla has said it is continuing on a timeline to bring fully-autonomous driving, otherwise known as level five autonomy, to its vehicles by the end of 2017. But this is reliant on the US government's regulatory approval of the system. Musk has said that when its level five autonomous technology does arrive, the need for a person in the driver's seat is "only for legal reasons… as (s)he is not doing anything… [and] the car is driving itself."
Furthermore, Musk explained that the system enables "a view of the world that a driver alone cannot access, seeing in every direction simultaneously and on wavelengths that go far beyond the human senses."
You can check out demonstration of the Autopilot system in action right here.