In a world of nanny states, anti-roll, anti-skid, anti-drive, and basically, anti-enjoyment, the 2018 BMW M4 CS is one of few cars on the market at the moment that instigates good old-fashion hooliganism and tyre-shredding fun.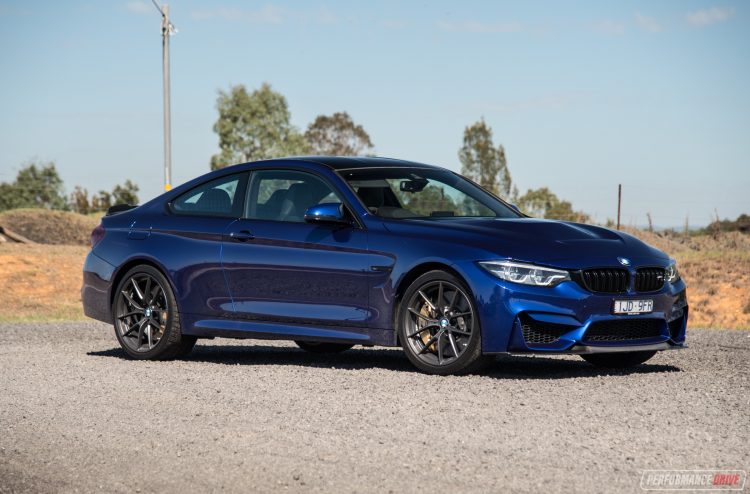 The M4 CS (club sport) is the cream of the current BMW M3/M4 crop. Unlike the old M4 GTS, the CS isn't solely built for the track. It can be driven to the track. Set a cracking lap time at the track. And then it can be driven back home, albeit with considerably less tread on the rear tyres.
It is a special edition in that production is limited to around 3000, with a lot fewer allocated for Australia. Prices start at $189,900, making it about $50,000 more expensive than the base M4 Pure. Those after more practicality will have to wait for the M3 CS four-door to arrive in Australia in June, priced $10k south of this.
2018 BMW M4 CS – THE SPECS
Engine: 3.0-litre twin-turbo inline six
Output: 338kW@62500rpm / 600Nm@4000-5380rpm
Transmission: Seven-speed dual-clutch auto
Drive type: Rear-wheel drive, Active M diff
Wheels: F: 19×9.0, 265/35  R: 20×10, 285/30
ANCAP: Five stars (4 Series)
Tare weight: 1542kg
Power-to-weight: 4.56:1 (kg:kW)
Official fuel economy: 8.4L/100km
Economy during test: 10L/100km
Fuel capacity/Type: 60L/95 RON
Power efficiency: 40.23kW:L/100km
0-60km/h: 2.56 seconds*
0-100km/h: 4.31 seconds*
60-110km/h: 2.30 seconds*
1/8 mile: 8.21 seconds at 157.2km/h*
1/4 mile: 12.30 seconds at 194.7km/h*
Max acceleration: 0.837g
100-0km/h braking: 2.90 seconds at 35.78 metres*
Max deceleration: -1.305g
Decibel at idle: 64 (Sport mode)*
Peak decibel at 60-100km/h: 93*
Priced from: $189,900
* Figures as tested by PerformanceDrive on the day. Factory claims may be different

2018 BMW M4 CS – THE PACKAGE
If you love cool details and exclusivity, you'll adore the M4 CS. On the outside BMW M fans will instantly spot the discreet carbon fibre skirting around the front end, as well as the steep lip spoiler on the boot lid, also made from the exotic baked woven plastic. The same stuff is used for the roof and vented bonnet to keep the centre of gravity low, while the regular alloy wheels from the M4 are replaced with racer-style gunmetal grey light-alloy items measuring 19 inches on the front and 20 on the back.
Inside, it's like a blanket of Alcantara has been thrown over the cabin. Passengers are hugged by leather and Alcantara sports seats, taken from the Competition spec version, while most of the centre console is removed leaving a flat panel covered in Alcantara. This soft, suede-like material is used for the upper-dash as well, complete with 'CS' etched on the passenger side.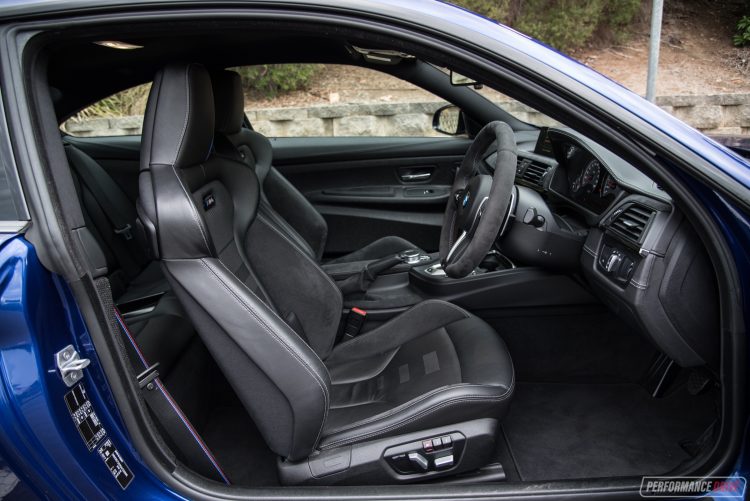 As for the door trims, get this, they are made from "compacted natural fibres". There's a neat little arm rest on the door and that's about it. You loose BMW's fantastically big bottle holders and the door-close grip is replaced with a pull strap finished with BMW M colours stitched in. The position of the strap is located right at the front which doesn't provide much leverage when closing the door, which can make it awkward.
Aside from the lack of bottle holders in the doors, and the removed centre console box that would have otherwise concealed your precious goods, the CS is just as practical as a regular 4 Series coupe. Well, at least the M4, as the centre rear seat is replaced with a storage tray. Headroom and legroom is more than respectable in the front, and even the back seats are fairly capacious. You can even fit a forward-facing baby seat in the back with ISOFIX points and a top tether hook.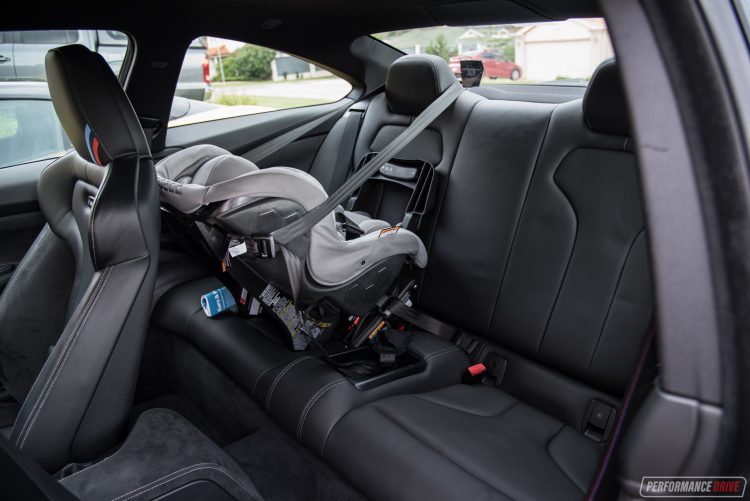 Driving ergonomics are typical BMW; spot on. Although, it would be nice to have a wider brake pedal. The seat can be adjusted to sit low to the floor or raised high for a clearer view. In the CS you also get a soft, Alcantara-wrapped steering wheel. As a minor word of warning, the steering wheel is very good at drying out your hands on longer journeys. However, the tradeoff is you get to grasp something that feels nice and grippy in your hands.
Despite being a somewhat stripped out a track-focused vehicle, the CS does come with BMW's excellent iDrive 6 multimedia system. It's touch-screen-capable and offers in-built apps like weather, traffic and sat-nav, and it's all navigated via the pretty much flawless hand controller wheel down on the console. One of the great things about iDrive is that it will remember what you're doing.
For example, say you go into 'vehicle settings', then click in to the 'displays' sub-menu and adjust something in there. You can click the main menu button and it'll take you straight out. However, if you find the adjustment you just made isn't working for you, you only need to click into the 'vehicle settings' and it'll toggle down to 'displays' automatically. The same can be said when choosing media or radio stations. In other words, you don't have to go scrolling around all of the time.

2018 BMW M4 CS – THE DRIVE
Developed extensively on the Nurburgring, setting a lap time of 7:38, the M4 CS is entirely ready for the track or a good mountain road. The suspension setup is similar to that of the Competition pack, featuring Adaptive M dampers as standard with three modes, and forged aluminium wheel hubs front and rear to help reduce unsprung mass. Further helping to reduce unsprung mass, the CS comes with the light-alloy wheels as mentioned, wrapped in the outstanding Michelin Pilot Sport Cup 2 tyres measuring 265/35 on the front and 285/40 on the rear. These are 10mm wider than the regular M4 tyres.
If that's not enough grip, there's an Active M differential at the rear which has been tuned specifically for the CS. What does "active" mean? Taking in signals from the left and right wheel speeds, steering angle, throttle application, vehicle speed, and transverse acceleration, the diff is able to provide both rear wheels with optimum torque at any given time. In other words, it's a super advanced locker. Around even the tightest of uphill hairpins, it's pretty much impossible to waste away power to single wheel wheelspin. Instead, it either hooks up and provides awesome acceleration, or, if you're a bit of a hoon, it'll bake the rear tyres like there's no tomorrow.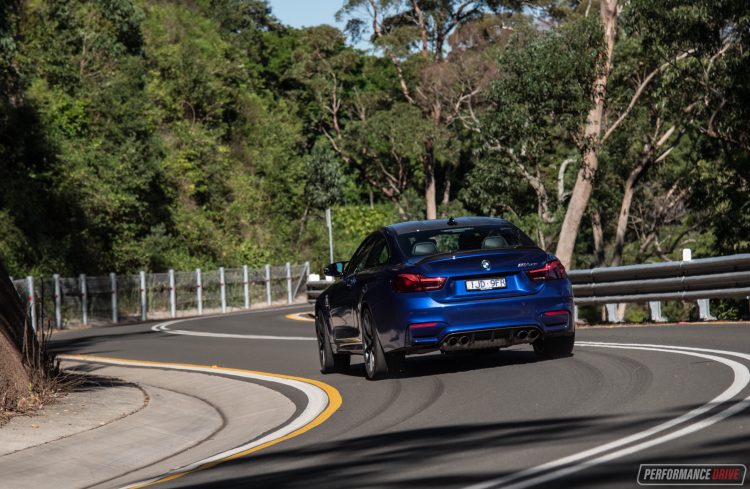 Speaking of torturing the rear tyres, this is made possible thanks to the brilliant S55 3.0-litre twin-turbo straight six engine. Traditional M car fans will appreciate BMW sticking to its roots with the inline six, as it is perhaps one of the most harmonious and balanced piston engine configurations around. It sings and screams, but with the turbochargers it also barks and spits like a crazy rally car.
Peak power is lifted from the standard M4's 317kW, past the M4 Competition's 331kW, to 338kW. On paper, the specific output is an impressive 112.6kW/litre. Anything over 100kW/litre is usually an instant indicator of extremely fine-tuned engineering and performance efficiency. This figure is hit at 6250rpm. Although it's not as high-revving as M cars of the past, it will rev to 7600rpm, with absolutely no hesitation or turbo-lag, before it pops and bangs off the rev limiter.
More importantly, and frighteningly for the rear tyres, is the torque this unit develops. Between 4000rpm and 5380rpm you're on 600Nm. This is more than some modern V8s, which obviously have rotating mass working in their favour. This is what you'll notice the most if you step out of a regular M4 or Competition with 550Nm. It might only be a 50Nm difference, but that's about as much torque as a modern Honda CBR600RR sports bike.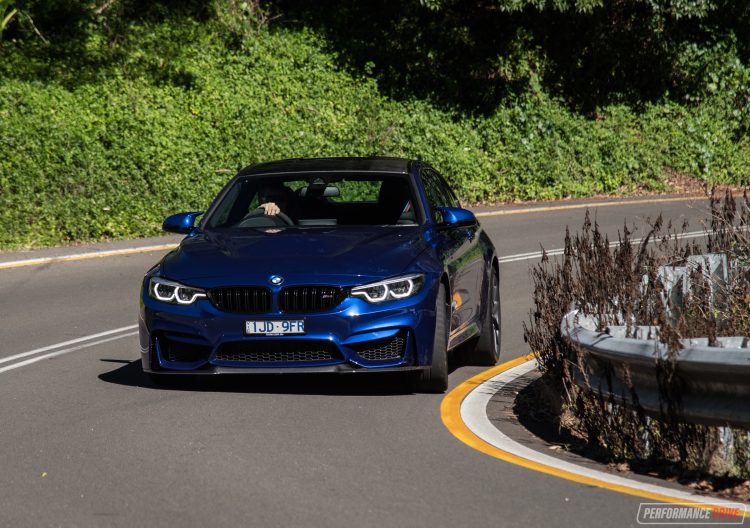 And then you have the seven-speed dual-clutch automatic transmission. Unlike some of the eight- and even nine-speed automatics on the market at the moment, which have an annoyingly long first gear and then short middle gears, each of the seven gears here are spaced to perfection in accordance with the engine's capabilities. In other words, it's immediately obvious this transmission was tuned and developed specifically for this car, its weight and its engine.
Nailing it up through each gear gives you rapid, consistent and huge-grin-inducing acceleration. About the only area where the acceleration tapers off is in seventh gear, which is purposely spread further apart from the rest to help with efficiency when you're simply cruising along the highway. In fact, the electronically-limited top speed of 280km/h (lifted from 250km/h thanks to the standard M Driver's pack) is better achieved in sixth gear.
How does it all come together off the paper and in the real world? The sheer balance and response is the best part of this car. Every control surface is very reactive to your input, and every control works in unison. It's like a bunch of pals sorting out the beers at the pub on a Friday afternoon. Everyone has what they need and everyone's happy. It's the same here. All components seem to know each other very well. Out on the road or on the track, this collaboration makes for an awesome, thrilling, and fun driving experience that not many cars on the market can match.
2018 BMW M4 CS – THE VIDEO
2018 BMW M4 CS – THE VERDICT
Well it's definitely the coolest BMW currently on sale, we think we can all agree on that. It's also highly collectable and rare, let alone what the future will hold for it. Above all though it's the drive that wins us over. This is a true driver's machine. It'll do exactly what you want it to do, when you want to do it, and with the consistency and precision of a Swiss timepiece. This is our kinda car.
If it were our money though we'd probably wait for the M3 CS to arrive just for that added practicality of four doors.
PROS:
– Exhilarating and exciting to drive
– Balanced powertrain provides optimum power, torque and gearing
– CS lifts the cool factor to 11 with carbon fibre stuff
– Overall component communication
– CS exclusivity and collectability

CONS:
– CS loses some practicality; limited in-car storage
– Not ideal for those who don't enjoy drifting
As always, if you're thinking about buying a new car don't forget to click here to speak with our car buying specialists.