Porsche has revealed a new Macan variant called the GTS. It sits neatly between the Macan S entry model and the flagship Macan Turbo.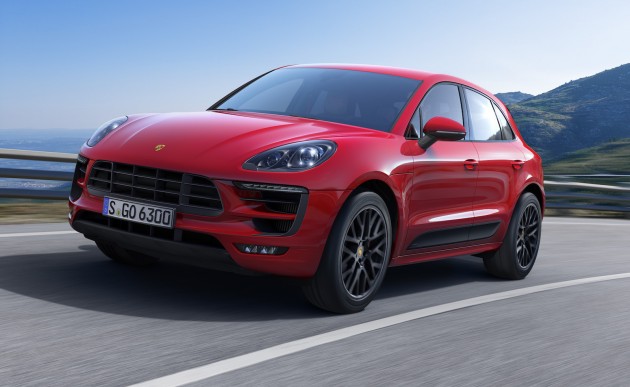 Under the bonnet the new sporty version gets the same 3.0-litre twin-turbo V6 as the Macan S, however, output has been boosted from 250kW to 265kW. This places it neatly underneath the 294kW 3.6-litre Turbo variant.
Out on the tarmac the small SUV can conquer 0-100km/h in 5.2 seconds, or 5.0 seconds when optioned with the Sport Chrono package. Flat out, drivers can hit a top speed of 256km/h. Fuel consumption is rated at 9.0L/100km on the combined cycle, up from 8.7L/100km in the regular Macan S.
Aside from the lift in engine power, the GTS package follows in the theme of other GTS models in Porsche's showroom. As standard there's a sportier tune for the Porsche Active Suspension Management (PASM) with reduced ride height by 15mm.
A "full-sounding" sports exhaust system is also fitted, along with various exterior highlights such as 20-inch RS Spyder alloy wheels in matt black, along with various black trimmings around the body.
The interior is also dressed to suit, with GTS Alcantara elements, sports seats, and GTS instrument dials. It also of course comes with a suite of luxuries as per the regular Macan, including a full touch-screen multimedia interface.
Porsche Australia says the GTS coincides with the launch of the MY2017 Macan range, available from January 2016 production. Updates include standard digital radio, lane departure warning, three-zone climate control, and a revised communication system with voice control.
Prices have been adjusted slightly for the 2017 model. See below for the Australian price list (excluding on-road costs):
2016 Porsche Macan S Diesel – $88,000
2017 Porsche Macan S Diesel – $91,900
2016 Porsche Macan S – $89,300
2017 Porsche Macan S – $93,100
2016 Porsche Macan GTS – N/A
2017 Porsche Macan GTS $109,500
2016 Porsche Macan Turbo – $125,800
2017 Porsche Macan Turbo – $130,300