Ford has finally pulled the wraps off the highly anticipated 2016 Ford Focus RS. This is set to be one of the quickest and most mental hot hatches around, yet also practical and easy to live with.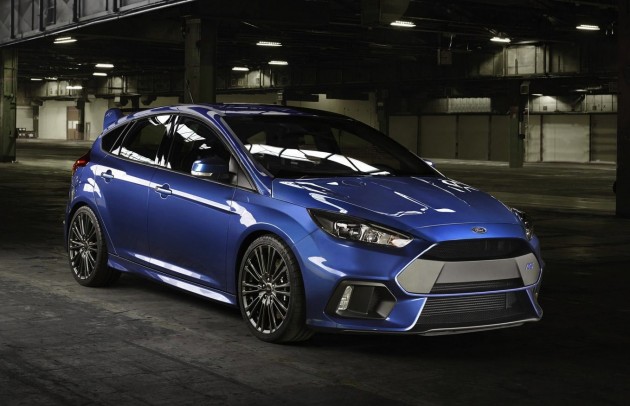 Starting with the engine. Ford has confirmed the bonnet hides a 2.3-litre EcoBoost turbo four-cylinder, which replaces the previous five-cylinder arrangement. Outputs haven't been confirmed but the company says it will produce more than what is offered in the Mustang with the same engine.
In the mighty Mustang the 2.3 develops 235kW of power and 433Nm of torque. The company says it will produce "well in excess of 315hp" (235kW), despite sharing the same fundamental structure as the Mustang's all-aluminium engine layout.
From there, power is directed for the first time into a constant all-wheel drive system developed by Ford Performance. The system incorporates brake-based torque-vectoring control to make best use of all of that grunt, and a special set of electronically controlled clutch packs to manage the front-to-rear torque split. Up to 70 per cent of drive torque can be applied to the rear axle in certain conditions.
Before the engine gets a chance at belting out acceleration, there is a six-speed manual transmission to decide speeds. The gear lever has been shortened to provide faster and more accurate shifts compared with the old unit. Jim Farley, president of Ford of Europe, Middle East and Africa, spoke about the new model, saying,
"We are acutely aware of the benchmarks we have set ourselves with RS performance models through the years, and rest assured this new car raises the game to a new level."
In other areas, the Focus RS gets adaptive dampers and sports suspension with a firmer setting for the track, as well as a retuned electric power steering setup with a revised knuckle front suspension design with shorter link arms.
As for the design, it's not quite what we expected. It's actually a lot better. There are enough surfaces and panels that are completely different to the regular Focus models that makes this really stand out. Take the front end, for example. It features a large fascia section with unique brake cooling ducts, while at the back is a chunky diffuser and a "carefully integrated" roof spoiler up on top. It looks fat and racy from behind, like a rally car.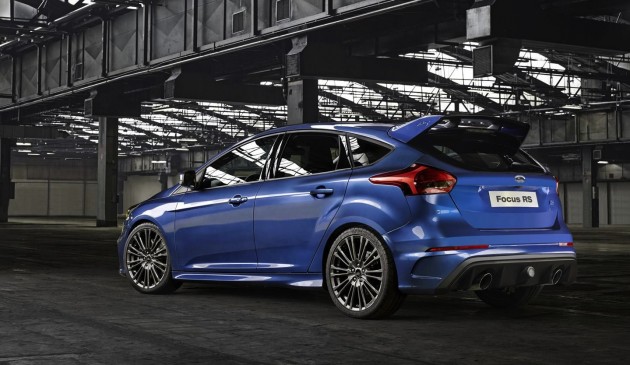 Ford says it is planning to sell the new Focus RS all over the world, including in the US. It's one of just 12 new models being planned by Ford Performance over the next five years. More details of this beast are probably going to be revealed at the 2015 Geneva Motor Show in March. Stay tuned.