BMW has been making mid-size performance coupes for decades. Over three decades, actually, which means the company has loads of experience in the field. Some changes have been made to its latest model with the introduction of the 2017 BMW M4 Competition LCI. But now that there are some very talented rivals on the market, does the BMW M favourite still make a compelling proposition in the driver's car space?
For the 2017 LCI update, BMW and BMW M have made a few tweaks and minor adjustments to the compilation so it's more advanced, more powerful, and cleverer than ever before. The exterior design is also revised but you'd have to be a keen-eyed fan to spot the difference. The main clue is the new headlight design, which drops the circular 'halo' rings and goes for a layout that connects the central grilles via a thin horizontal LED line.
Prices have climbed a little compared with last year's model in the upper end of the range, but dropped for the M4's lower end thanks to the introduction of the Pure variant. The M4 Competition LCI starts from $156,710 (up $1810), while the M4 Pure LCI starts from $139,900 (down $10,000 [Pure not available pre-LCI]). You can still buy a regular M4 non-Pure and without the Competition pack, priced from $151,610 (up $1710). Manual and auto has no price difference.
2017 BMW M4 Competition LCI – THE SPECS
Engine: 3.0-litre twin-turbo inline six
Output: 331kW@7000rpm / 550Nm@1850-5500rpm
Transmission: Seven-speed dual-clutch auto
Drive type: Rear-wheel drive, locking differential
Wheels: F: 20×9.0, 265/30  R: 20×10, 285/30
ANCAP: Five stars (3 Series)
Tare weight: 1502kg
Power-to-weight: 4.53:1 (kg:kW)
Official fuel economy: 8.3L/100km
Economy during test: 10.5L/100km
Fuel capacity/Type: 60L/95 RON
Power efficiency: 39.87kW:L/100km
0-60km/h: 2.80 seconds*
0-100km/h: 4.71 seconds*
60-110km/h: 2.50 seconds*
1/8 mile: 8.57 seconds at 151.3km/h*
1/4 mile: 12.84 seconds at 186.6km/h*
Max acceleration force: 1.02g
100-0km/h braking: 2.82 seconds at 36.91 metres*
Max deceleration force: -1.27g
Decibel at idle: 49*
Peak decibel at 60-100km/h: 96*
Priced from: $156,710
* Figures as tested by PerformanceDrive on the day. Factory claims may be different

2017 BMW M4 Competition LCI – THE PACKAGE
So, it is a confusing lineup but we'll try and clear it up for you. Basically the Pure edition strips back some of the luxuries but it receives the high-output engine tune of the Competition (331kW), leaving the standard M4 to offer both luxury and performance (317kW). The Competition pack then adds various specialist components and cosmetic tweaks that make it perfect for both track enthusiasts and hardcore M fans.
Specifically, the Competition adds racy 20-inch forged alloy wheels with wider Michelin Pilot Super Sport tyres (front 265/30 and rear 285/30), adaptive M suspension with unique springs, dampers and stabiliser bars, and reconfigured driving modes (Comfort, Sport, Sport Plus). For the interior you get some cool M Sport bucket seats with cut-out sections in the hips (great ventilation for hot summer days), with illuminated M4 badges, and some discreetly stitched M seat belts with the traditional colours threaded through. There's also black highlights for the exterior, such as the M4 badge at the back, front grilles, and quad-outlet exhaust tips.
The Competition pack misses out on under-thigh leg extensions that M cars (and BMW cars in general) are known for, but it does keep the high-end 16-speaker harman/kardon sound system from the regular M4 (deleted on the M4 Pure). This stereo, in our opinion, is actually pretty ordinary. For the sheer amount of speakers popping out from every corner of the cabin, we were expecting a lot better. BMW has always been a bit behind in the area of standard high-end stereo quality in our view, with carmakers Audi and Lexus always seeming to set the benchmarks.
The cabin ambience in this Yas Marina blue example with its Silverstone grey Merino leather is quite pristine. It has a distinct elegance to it, with carbon fibre strewn across the dash and centre console making it all really pop when you first get in. This definitely adds to the theatrics of the in-car experience, and you immediately forget that this is based on the relatively humble 3 Series.
New for the LCI is BMW's latest iDrive6 media interface that displays a lineup of 'tiles' for the on-board apps. It's a far nicer and less fidgety setup than the previous list-style layout. There's a number of different views as well, including a snapshot view which displays little windows that show what the specific apps are currently running, which is cool. The graphics are crisp and clear and a more pleasant colour palette used than before. The actual iDrive controller down on the console is essentially the same as before, with left and right toggling for sub-menus and a scattering of jump-to buttons around the perimeter of the main dial. In our opinion, it is one of the easier systems to operate and you can learn the sequences pretty quick to the point where you don't have to look down to make selections – unlike some complex systems on the market at the moment.
In the back, the rear seats are surprisingly useable compared with the rivals. They sink pretty low and there's respectable legroom. Only two seats are presented, but this leaves space for a neat little storage trough in the middle. There's also proper arm rests in the walls, climate vents with separate heating/cooling control, and an electric-sliding front seat button in the back of the front seats for easy exit – great amusement for the kids and potential frustration for the front passengers.

2017 BMW M4 Competition LCI – THE DRIVE
In day-to-day conditions, in Comfort mode, the M4 Competition is pretty docile and friendly to drive. The dual-clutch auto does its best to smoothen out gear changes and the adaptive dampers provide a tolerable ride over less-than-perfect roads. The super low profile tyres do roar over gritty surfaces though, and they don't provide much give when you encounter bridge connections or lane markings/reflectors. Engine response isn't snappy and the steering is precise without being busy, if a little heavy even in Comfort mode. BMW has finally installed proper indicator stalks that click into place, too, which helps with overall practicality and day-to-day usability.
Switch it over into Sport or Sport Plus mode though and it turns into a completely different machine. It's undoubtably clear this is a performance driving machine. Across a section of country road or mountain road, the M4 Competition is insanely quick. The throttle response in the Sport Plus setting is incredibly sensitive so you can make tiny adjustments with your little toe to keep the chassis on the balance point between understeer and oversteer. Actually, we'll correct that. It doesn't really present understeer. It's basically a balance between oversteer and neutrality.
Part of this point-to-point speed comes thanks to the awesome Michelin Pilot Super Sport tyres. These hang on with gut-wrenching adhesion, even in the wet, in terms of lateral grip. Conversely, it is very easy to lit up the rears if you lean too hard on the throttle too early in the corner, provoking as-long-as-you-like drifting action. But it's all about the driver and his/her input, and what you want from the car. This is what makes the M4 such a brilliant driver's car; it's not a car that anybody can just get in and flatten the throttle. You need to take the time to understand it and respect it. And we say this as a good thing. A driver's car needs to be interactive and needs to rely a lot on the driver. Which is exactly what the M4 does. After all, you're driving it; it's not driving you.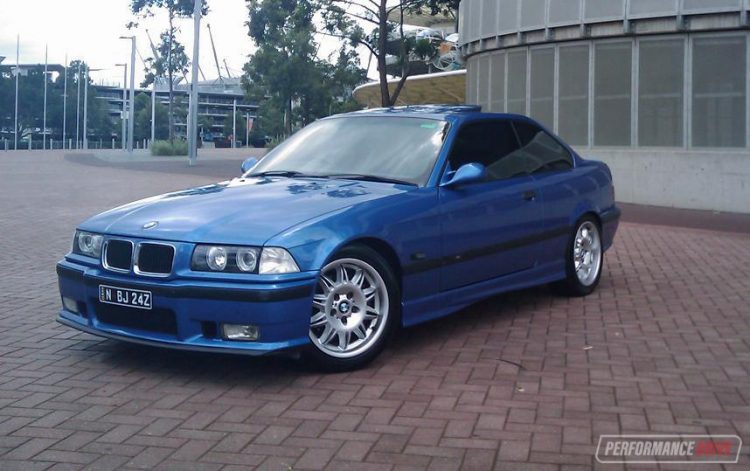 In terms of tradition, this writer has owned a couple of M3s in the past so I can speak with some degree of past experience. Typical know-it-all BMW owner talk – I know, I know. But I can see the balance has shifted slightly compared with the old E36 M3 and E46 M3. It used to be pretty evenly balanced between all facets, albeit somewhat skewed toward power. Now, the M4's power is evidently more prominent between the handling, brakes and comfort/luxury. It might be a small figure, at 331kW, compared with the rivals but this thing only weighs 1502kg. It definitely doesn't need any more power.
This power-dominant combination does affect longitudinal traction. In fact, getting the M4 off the line from a dead stop can be tricky. Even with the launch control system. If you can get the launch control system to activate, that is. It requires; the traction control to be turned off, max settings for engine and gearbox (Sport Plus), and manual mode for the gear shifter even though it changes gear itself during launch control. It is needlessly complicated. A better option would be to offer a button that says, umm, 'LC', perhaps.
We tried around 10 acceleration runs with and without launch control and the best 0-100km/h time we could achieve was 4.71 seconds (with launch control). It will spin the rear tyres all the way through second gear under full throttle without launch control and even spins into third (without traction on). We tried being very cautious with the throttle and it didn't help. As a result, our time is slower than the 4.58-second time we achieved in the 317kW M3 sedan in Germany earlier this year (non-Competition pack), which, itself, behaves a bit like a dog on tiles getting off the line as well.
Some of this discrepancy is down to the power difference, from 317kW to 331kW, but also the lower profile tyres on the Competition. The regular model uses 275/35 on the rear versus 285/30 on the Competition (or 96.25mm vs 85.5mm sidewall depth). These 30-section tyres have no real flex to absorb any of the initial impact of setting off from a stop. With larger-sidewall tyres we have no doubt this machine could clock 4.0 seconds or even quicker; the power and torque, and direct delivery from the driveline, are certainly there. Across the quarter mile it stopped the clock in a best of 12.8 seconds at 187km/h.
An area where the M4 remains very loyal to its tradition is with response. Every major control is very responsive and direct. The gears change as quick as you can pull the paddle. Turning the steering wheel at any degree results in an instant directional change. And the engine, as mentioned, only requires a mere sneeze of application to change the level of forward thrust. Peak torque is available between 1850rpm and 5500rpm, which is a huge window. Any gear at any time gives you immediate acceleration. And it doesn't mind revving out beyond 7000rpm, also in keeping with tradition.

2017 BMW M4 Competition LCI – THE VIDEO
2017 BMW M4 Competition LCI – THE VERDICT
From a driver's car point of view, the M4 Competition is a blast to drive. It does what you want and when you want, and never complains. It requires finesse and skill to fully tame during high-tempo driving, making it a very engaging and very exciting car to drive. Immaculate build quality and genuine luxury is immediately obvious as well, making it a pleasurable drive during the week. Again, sticking to tradition.
If it were our money we'd forget about the Competition pack and instead go for the more affordable and more comfortable Pure edition, and in more practical M3 sedan form for just $129,900 – yep, I'm currently trying to convince the other half. For us, the big wheels/rigid tyres aren't really needed unless you're very serious about track days, or simply love standing out in a crowd.
PROS:
– Massive torque window and impressive top-end power (especially for 3L)
– High-speed stability and lateral grip
– Exciting to drive
– Luxury interior with traditional functionality
– New iDrive6 interface
– Limited rear end traction is a hoot; high 'driftability'

CONS:
– Limited rear end traction can catch you out
– Unusually small brake pedal (difficult to left-foot brake)
– No give in tyre sidewalls with Competition pack
– Average stereo (despite 16 speakers)
As always, if you're thinking about buying a new car don't forget to click here to speak with our car buying specialists.