It wasn't that long ago when this was a mad conversion idea only seen in the aftermarket world. But now BMW is doing it. Yes, the BMW M2 Competition features the 'S55' engine from the M3 and M4. How cool is that?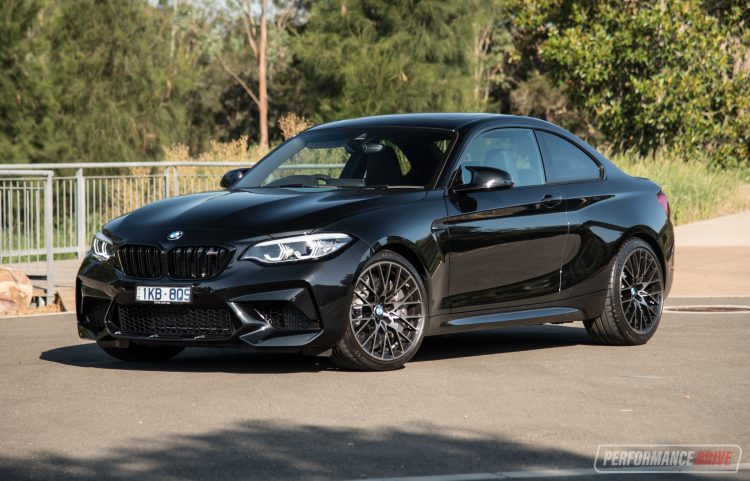 We'll tell you how cool it is in a minute. But first, let's get the formalities out of the way. The M2 Competition follows in the skid marks of the M3 and M4 Competition, and more recently the first-ever M5 Competition. There's a distinct racy theme but without pushing through the boundaries of practicality for normal road use.
The M2 Competition essentially comes in to replace the regular M2 in Australia. However, it does come in two forms. The M2 Competition Pure is the new base model, starting from $99,900, and the non-Pure M2 Competition retails from $104,900 (as tested). Prices haven't really increased from the old M2. Both are available with either a six-speed manual or seven-speed dual-clutch auto, with no price difference.
2019 BMW M2 Competition – THE SPECS
Engine: 3.0-litre twin-turbo inline six
Output: 302kW@7000rpm / 550Nm@2350-5200rpm
Transmission: Seven-speed dual-clutch auto
Drive type: Rear-wheel drive, locking differential
Wheels: F: 19×9.0, 245/35  R: 10×10, 265/35
ANCAP: Not tested
Tare weight: 1543kg
Power-to-weight: 5.10:1 (kg:kW)
Official fuel economy: 9.1L/100km
Economy during test: 10L/100km
Fuel capacity/Type: 52L/98 RON
Power efficiency: 33.18kW:L/100km
0-60km/h: 2.47 seconds*
0-100km/h: 4.46 seconds*
60-110km/h: 2.63 seconds*
1/8 mile: 8.34 seconds at 147.9km/h*
1/4 mile: 12.65 seconds at 186.6km/h*
Max acceleration: 0.836g
100-0km/h braking: 2.81 seconds at 36.76 metres*
Max deceleration: -1.659g
Decibel at idle: 50*
Peak decibel at 60-100km/h: 93*
Priced from: $104,900
* Figures as tested by PerformanceDrive on the day. Factory claims may be different

2019 BMW M2 Competition – THE PACKAGE
Considering it's a compact, rear-wheel drive coupe, the M2 Competition is surprisingly practical. Seating space in the front is more than acceptable, with BMW's relatively clean and clutter-free dash and centre console making it feel open and airy. There's also plenty of space to put your things, with cup holders and bottle holders available, and a tidy console storage box complete with a wireless phone charging module housed within.
In other words, it's just as practical as the regular 2 Series. And that's a good thing as BMW M cars have always been about providing exceptional performance but not at the sacrifice of luxury or comfort. Unlike the regular 2 Series though the M2 Competition comes with some special appointments to set it apart.
The standard front seats are replaced by some awesome, body-cradling M seats with full electronic adjustment. They're different to the somewhat boring sports seats in the regular/previous M2 as well, featuring contrast stitching in blue, with a mesh-like blue pattern perforated into the seat panels. As you might have expected, the driving position is beautiful, partly thanks to a huge range of adjustment for the tilt and reach steering column.
About the only aspect to the driving position that we don't like is the brake pedal. We've seen this in the M3 and M4 as well. It's a small pedal that looks like it's shared with the manual transmission versions. We don't think it's too much to ask for a wider pedal.
Rear seat space is pretty tight, and there is only seating for two. The middle space is occupied by a little storage tray, and there's a flip-down arm rest from the centre position. Despite the car's size, there are climate vents in the back of the centre console for the rear passengers, complete with seperate temperature control.
In terms of in-car entertainment, you get BMW's latest iDrive infotainment system. Apple CarPlay is still an option, however, even if it were featured we probably wouldn't use it as the BMW iDrive controller and the in-built apps are very intuitive and cause little distraction. Once you spend a few days getting used to it all anyway.
The non-Pure version adds a quality 12-speaker sound system by Harman/Kardon. The obvious stuff like digital radio, sat-nav, internet connectivity, and some excellent on-board telemetry and driving info is also packaged in as standard.

2019 BMW M2 Competition – THE DRIVE
So, that gem under the bonnet. Instead of the BMW-sourced 'N55' single-turbo inline six, this M2 Competition gets the 'S55' 3.0-litre twin-turbo inline six built by BMW M. It shares the same 2979cc displacement, and the same 10.2:1 compression ratio, but pretty much all of the bits that hang off it and sit inside it are bespoke items by BMW M division.
Digging further into the specs, it's not only more powerful and offers more torque, but the way these figures are delivered is also different. While the previous N55-powered M2 engine likes to wail and sing its way to 6500rpm, where peak power of 272kW is reached, the S55 grunts and barks, and requires 7000rpm to hit its peak 302kW figure.
The torque band is also narrower in this new M2 Competition, but the tradeoff is a much larger figure. Peak torque, all 550Nm of it (same as M3/M4), is available between 2350-5200rpm. Compared with the previous M2, it offered 465Nm between just 1400rpm and 5560rpm. This gives you some idea of the more aggressive nature of the S55 unit. It's an engine more about performance driving and going as fast as possible, while the regular N55 could be regarded as a better unit for everyday use. The old N55 also sounds a bit creamier.
Using our trusty Vbox Sport we managed, after numerous tests, a best 0-100km/h time of just 4.46 seconds using the standard launch control system. You can dial up the revs using the cruise control button to find the best launch. During our testing, the magic figure was about 2600rpm. At 4.46 seconds, it is quicker than the 4.54-second time we achieved in the regular M2 auto, and quicker than the 4.58-second time we achieved in the 317kW M3. However, across the quarter mile the gap widens. The clocked stopped in a dashing 12.65 seconds in this, overshadowing 13.04 seconds we achieved in the regular M2. The trap speed is also much greater, at 186.6km/h versus 178.7, proving this beast has awesome top end grunt. It is fractionally slower than the 12.57-second run we did in the M3, though.
Interestingly, all times are quicker than what we've achieved in the 331kW M4 Competition. But, we do remember the test vehicle we had at the time was wearing quite badly worn tyres. The king of all S55-engined models we've tested is the 338kW M4 CS, which clocked 4.31 seconds and 12.30 seconds, respectively.
Anyway. Sorry about that long-winded dissertation on acceleration figures. We all know BMW M cars aren't designed, primarily, to conquer straight-line sprints. Especially not the M2 Competition. This was designed to conquer corners. And it offers a split-personality in this department in our opinion.
As you probably know or have seen, the M2 is a real lark in the corners. It'll drift around for as long as the tyres can manage. With this new Competition version, the added torque means it's simply easier to initiate a slide, easier to maintain a slide, and easier to finish a slide compared with the old M2.
Yes, it is cheating a little bit, just adding power and torque. But in our opinion it's actually more controllable. You needn't be as close to the edge to get the car to slide about. You can rely more on the angle of your right ankle. Steering the car with the throttle, as they say. This, to us, is easier than negotiating with the steering and worrying about getting that perfect weight transition happening. So to sum up this side of its personality, we'll just say that if you love a bit of tail-out fun, the M2 Competition is as near to perfect as it gets. If you visualise something you want it to do, it'll likely do it exactly as you thought.
As for the other side of its personality, we find it's actually more impressive during 'grip driving'. The tyre sizes are the same as the regular old M2, with 245/35 on the front and 265/35 on the rear. The tyres are also the same (in Australian-spec anyway), adopting Michelin Pilot Super Sport items. However, various mechanical tweaks help to improve handling and response.
You'll notice the chunky 1.5kg carbon fibre strut brace under the bonnet, taken from the M3/M4. This is not seen in the regular M2. There's also the bulkhead strut from the M4, aluminium front and rear axles from the M3/M4, play-free ball-joints, and forged aluminium control arms and wheel carriers. These all combine to increase rigidity, steering precision and chassis response.
The differential, which is one of the best we've ever experienced, is an active type by BMW M with full locking capability. It, too, has been recalibrated for the new model. It uses an electronic actuator to engage a multi-plate limited-slip clutch system, offering between 0 and 100 per cent locking functionality. BMW says the new setup works proactively, too. Deep within a specification document, BMW explains:
"When pulling away on slippery surfaces, the lock is closed by a defined percentage even before a wheel can start to spin, to ensure that both wheels develop equal slip at the same time. The lock is also closed by the required percentage through enthusiastically driven corners, according to the levels of lateral acceleration and drive at work. This prevents the low-traction inside wheel from starting to turn too quickly."
In short, it will never let go to inside wheel wheelspin. Well, we didn't experience such blasphemy during our test. Dial this back a notch, before traction is lost, and you can feel the differential sending the power to the ideal wheel during cornering, pivoting the car. If you follow a natural racing line and apply gradual throttle at or beyond the apex, the M2 Competition offers an enormous amount of grip. And with that, an equally enormous amount of g-force. It's unreal.
Every other element of driving is pretty much perfect in this car, like the old M2. The steering is typically precise and full of communication, and the suspension is firm and responsive. Strangely, adaptive dampers are nowhere to be seen. There are a bunch of driving modes, and you get the 'M1' and 'M2' preset buttons for the steering wheel, borrowed from the M3/M4. But oddly you can't change the ride characteristics. It can be fairly jittery around town or along poor quality roads. But the wheels always feel hard-pressed on the ground, with minimal road-skipping. But overall we think it would be nice if an adjustable setting was available to improve versatility.
You can option for some M Sport brakes (as tested), bringing in 400mm front and 380mm rear discs, with grey-painted six-piston front and four-piston rear calipers. This is up from the standard 380mm/370mm, blue-painted setup. They work. Really well. After repeated abuse during our test we found no sign of fade or weakening pedal feel. If you're a serious driving fan, and especially one that enjoys track days, this $3000 option is a must.
2019 BMW M2 Competition – THE VIDEO
2019 BMW M2 Competition – THE VERDICT
We have to cherish these types of vehicles while they still exist, as it won't be long before all carmakers fit electrified powertrains to all of their models. The idea of a big, powerful petrol engine being fitted to a small rear-wheel drive coupe is madness. Yet, you can buy this from the factory, brand new. It comes with the full three-year/unlimited kilometre BMW warranty too, and it's not actually all that expensive compared with the outgoing M2.
Aside from simply loving the idea of this powertrain conversion, the M2 Competition is pure joy to drive. Yes, it'll fry the rear tyres all day long in a completely controlled and predictable manner, but drive it properly, click through the instant gearchanges and really extract the most out of that active differential, and you'll be blown away but how much grip and confidence this car has. It's a machine. Of course, build quality, luxury, and technology remain at a very high level, following BMW M tradition.
PROS:
– S55 twin-turbo engine conversion is madness
– Exceptional cross country performance
– Easy to drift, smokes through 3rd gear (if you want it to)
– Practical cabin, compatible with everyday use
– Looks mean
– Class-leading differential and dual-clutch transmission
CONS:
– Apple CarPlay still an option
– No adaptive dampers
– Small brake pedal
As always, if you're thinking about buying a new car don't forget to click here to speak with our car buying specialists.