BMW is reportedly planning a performance version of the sporty X4 SUV dubbed the X4 'M40i', developed by the company's M Performance sub-brand.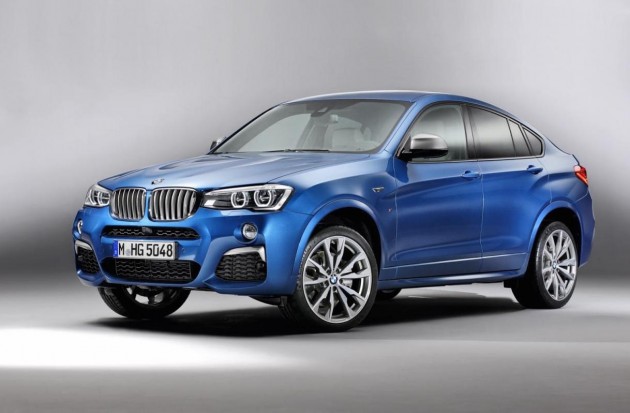 If there's an SUV in the lineup that is deserving of a performance variant, it's the X4. The model is based on the popular X3 mid-size SUV only it features a sportier coupe-style roofline and hatch tailgate.
According to a BMW Blog report, M Performance is working on an X4 'M40i' of sorts – name not officially confirmed – featuring a tweaked and boosted version of the xDrive35i running gear (pictured).
Under the bonnet is set to be a 3.0-litre turbocharged inline six engine developing as much as 265kW, which would be quite a jump from the already reasonably potent 225kW 35i version.
Considering the 35i can sprint from 0-100km/h in 5.5 seconds, the M40i is expected to dip just below that, nearer to 5.0 seconds. Performance is said to be helped by an updated version of the widely-used ZF-based eight-speed automatic transmission with all-wheel drive.
Along with engine enhancements, the model is likely to come with specialty M Performance aero components, multi-piston brakes, sports suspension, and a lightly enhanced interior. We can probably look to the current M135i/M235i for inspiration on what to expect.
If the details are accurate, we could see it in the showrooms some time later next year. Fingers crossed.
UPDATE: Images and spec sheets of the the new model have just surfaced online, found by BimmerToday. These appear to be official scans, confirming the initial predicted engine specs, with the company expected to announce all of the details at any moment now.