BMW has revealed perhaps its most important car of this year; the BMW i3. It's the first electric production car by BMW i, and the first of a string of new models that are set to appear in the near future under the new 'i' sub-brand.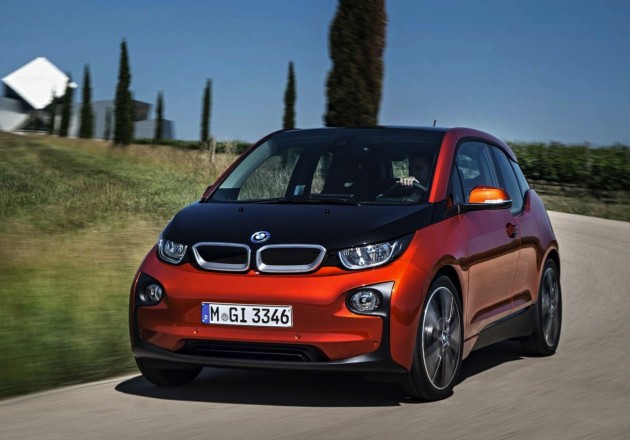 Aside from fuller doors, some details around the front end and proper side mirrors and headlights, the i3 looks remarkably futuristic, clearly resembling the concept car on which it is based.
Most of the panels are made from carbon fibre, which is stronger and lighter weight than steel, including most of the passenger compartment. An aluminium module envelopes the powertrain and the more heavy duty aspects of the chassis.
Overall, the package weighs in at a low 1195kg. This means it has a power-to-weight ratio (9.5kW:1kg) quite a lot better than a current BMW 320i (10.5:1). Not only does this help with performance, but also assists with driving and handling prowess, and efficiency.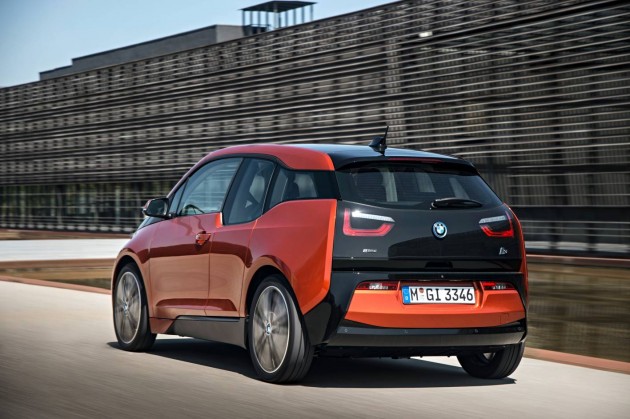 As previously reported, propulsion comes from a fully electric motor system incorporating a lithium-ion battery which is mounted dynamically in the floor for optimum weight distribution. It sends power to the rear wheels, keeping with BMW tradition.
The electric system supplies an impressive 125kW of power and 250Nm of torque, which is enough to overshadow most small cars currently on the market. Even more impressive, acceleration from 0-100km/h takes just 7.2 seconds. This puts it very near entry-level sports car territory.
Of course, being an electric car, propulsion only lasts as long as the battery has charge. BMW says on a full charge, which takes around eight hours in a conventional socket, drivers can expect an everyday range of around 130-160km, or up to 200km in ideal conditions.
For those wanting more range, an optional range-extender pack comes with a 25kW 650cc petrol engine which provides charge for the battery. Range is increased to around 300km.
The BMW i3 is clearly a city car designed for city dwellers that often zip around in tight streets and dense traffic. So to support this style of motoring, the i3 showcases petite proportions to make parking and gap-plugging duties a breeze, while the seats are propped for a high driving position to optimise over-traffic view.
Speaking of the seats, there are four inside, featuring thin back rests for minimal weight and space intrusion in the cabin. The gear selector is placed on the dash to provide further room, while the instrument cluster is displayed on a free-standing LCD screen.
Being a BMW – a premium vehicle – occupants can enjoy either a 6.5- or 8.8-inch LCD multimedia display with BMW's iDrive system. Standard equipment includes air-conditioning, 'Radio Professional', parking sensors, and an extensive connectivity setup with SIM card compatibility and Bluetooth and USB support.
Options will also be on offer, such as satellite navigation, climate control, an electric sunroof, LED headlights, and heated seats. BMW will offer a full suite of 'ConnectedDrive' systems as well.
For BMW, this is a very important and pivotal step. It shows the company is interested in forging new paths in electric mobility, while still holding onto its 'sheer driving pleasure' heritage. Speaking at the car's unveiling in New York City just a few moments ago, Dr. Norbert Reithofer, chairman of the board of management of BMW AG, said,
"The BMW i3 is more than an evolutionary step —it is a great leap forward. From sketch to street, the i3 is unique in every respect. With the intention of creating a truly sustainable car, we conducted research in megacities around the world.

"This included;

"Millions of test miles with our retro-fitted electric cars, MINI E and BMW ActiveE,
"Years of research in collaboration with Megacity experts around the world, and
"Thousands of hours talking with customers.

"From the start, we redesigned our entire development and production processes. The BMW i3 is purpose-built around an electric powertrain to serve the needs of our megacity customers."
BMW will be introducing the i3 in international markets later this year, while an Australian introduction is set to take place during the middle of 2014. Prices are expected to kick off at around $55,000-$65,000.