The metallic euphony created by the 2013 Lexus IS F is simply addictive. It's one of those cars that makes you want to get up early in the morning just so you can go and listen to it again. Match that with an infallibly precise steering and chassis setup, and an enriched and comfortable driver's home, and what you're left with is a pure driving machine that gets better and better the more you drive it.
Some might argue the IS F is made, at least in part, by Lexus's parent company; Toyota. In our opinion, it's the perfect combination really. You get the fine quality and high-end appreciation of Lexus, paired with the internationally renowned and historically proven reliability of Toyota. We don't see how negativity could possibly arise from this.
The main unrest that comes with the IS F is that it might not be superseded. Lexus has just launched the new IS range in Australia, however, the company is yet to announce plans for a future anabolic V8 sedan. This makes us a little bit sad as we think it is one of the more genuine driver's sedans of this era.
For the 2013 model, all of the underpinnings and equipment remain unchanged from the 2012 and 2011 version. Prices have dropped slightly, now kicking off from $125,945 (down from $126,800).
2013 Lexus IS F – THE SPECS
Engine: 5.0-litre naturally aspirated V8
Output: 311kW@6600rpm / 505Nm@5200rpm
Transmission: Eight-speed sports automatic
Drive type: Rear-wheel drive, mechanical LSD
Wheels: F: 19×8.5, 225/40  R: 19×9.0, 255/35
ANCAP: Five stars (scored 33.4 out of 37)
Kerb weight: 1700kg
Power-to-weight: 5.4:1 (kg:kw)
Official fuel economy: 11.4L/100km
Economy during test: 12.3L/100km
Fuel capacity/Type: 64L/95 RON
Power efficiency: 27.2kW:L/100km
0-100km/h as tested: 4.7 seconds
Priced from: $125,945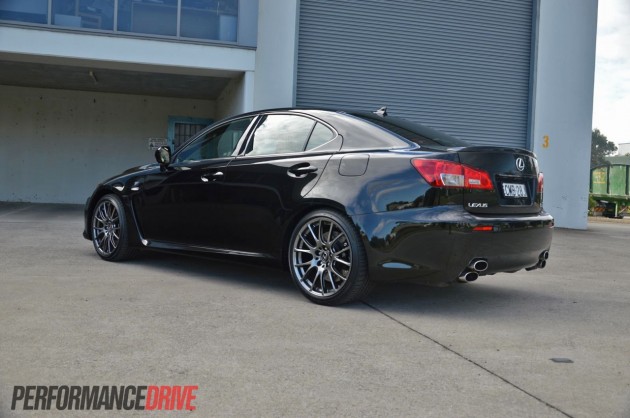 2013 Lexus IS F – THE PACKAGE
This is the top-line IS, so, inside what you're getting is everything that Lexus offers in this level of vehicle, for this time period.
There's radar-guided cruise control to wow your passengers, which is quite advanced for a car that is now over two years old, as well as a full multimedia interface with everything from satellite navigation, Bluetooth connectivity, voice recognition, and electric everything, including the steering column adjustment.
As with most Lexus vehicles, everything that's in the package comes as standard. There are no nasty surprises when it comes time to finalise your purchase – even the 14-speaker Mark Levinson stereo system is standard.
Some of the dash layout is obviously ageing now, having been around since the gen-2 IS was launched in 2005, with a relatively mono-tone upper section that curvaceously flows down around the glove box and blends into the door trims. It was fairly suave and modern in its day, but it seems demode in today's TFT touch-sensitive multi-material world. Still, everything is well put together with the robust quality that Lexus is renowned for.
In this test vehicle are a set of striking red leather sports seats. They are properly bracing units that get in and give you a firm yet soothing hug. Unfortunately (for some), larger occupants may find them a little confined.
Trying to seat three adults in the back is legally impossible due to the lack of a middle seat. That space is taken up by the brawny limited-slip differential and beefed up driveline that was specially developed for the IS F. Instead, you get a permanent tray table with its own 'F' badge.
Although the luxurious and prestigious nature of the IS F is comprehensible and impressive, it's the heart of the car that we're all interested in most. Its beating chest pulses from a splendid and mechanically arousing 5.0-litre naturally aspirated V8 producing 311kW of power and 505Nm of torque.
The '2UR-GSE' engine is an exquisite piece of work. It was developed by a dedicated IS F engineering team with help from Yamaha's Formula One program. It uses direct injection with variable valve timing on the inlet and outlet sides, a cast aluminium intake manifold, as well as titanium valves, and a forged crankshaft, forged conrods and cam lobes.
The engine also uses a unique secondary intake mechanism which sees an additional intake open from around 3400rpm and above. This gives the IS F a distinct V8 induction noise that sends goosebumps shivering down your spine, and a boyish grin stretching across your face. In other words, it all has the panache of a truly exclusive high-end sports car.
2013 Lexus IS F – THE DRIVE
Starting with the handling. It's easily one of the more favourable driver's sedans in this segment, clinging very closely to the benchmark-setting BMW M3 and the loud and flamboyant Mercedes-Benz C 63 AMG.
The precision of the electric rack and pinion steering provides finger-tip delicacy and a genuine man-machine relationship. You're continuously provided with feedback through the wheel, and left with a clear understanding of the adhesion status of the front and rear tyres. It's confidence inspiring.
Should you kick it in the guts at the apex of a corner, drifting, powerslides, getting the back end out, call it what you will, the IS F is a natural at this sort of malarkey. It loves it. That same precision is presented during oversteer, allowing you to hold controlled drifts and counter mild understeer with minor throttle adjustments. The mechanical limited-slip differential is very tight in these situations too, always harnessing the torque with both wheels.
About the only somewhat negative element to the IS F's handling is that it might be too focused for some. It doesn't lean into corners at all. It darts around them, remaining extremely flat.
With a firm suspension setting and no adaptive modes, the platform is always sharp and dedicated. This is great for racing circuits but it can present some comfort issues on the road. If you're a bit of a petrol head and have experienced plenty of performance cars before, it's unlikely to be a problem – it wasn't for us – but some may find the ride abrupt and fairly unforgiving on country roads and the like.
The handling and chassis dynamics are a wonderful synergy with the engine. It feels like it could manage more power quite adequately. Not that it needs it though. Full throttle acceleration is immense. We timed 0-100km/h in just 4.7 seconds.
Gear after gear, the speed just keeps climbing and the g-force that pushes you into the seat remains hard and forceful. And the sound that accompanies all of this is just superb – it's a refreshing change to hear a V8 directly from its voice box rather than through a trick exhaust system. It's fantastic to experience and makes you want to keep driving it until the sun goes down.
Despite torque reaching its peak at a relatively high 5200rpm, the engine doesn't feel strained or stressed driving up steep long hills. In fact, it feels ultra responsive – partly thanks to a high compression ratio of 11.4:1. We're guessing that a majority of the 505Nm is available from much lower in the rev range.
Using the paddle shifters behind the wheel does add to the aura. It's the best sports automatic-based transmission in the business in our view, strictly in terms of a performance auto.
It's lightening quick to upchange (0.1 seconds), and in manual mode, it remains in manual mode and won't upchange until you want it to. It doesn't quite match BMW's eight-speed auto in terms of refinement and comfort, but does offer very precise changes when you want them and none of the clunky drawbacks of a dual-clutch type.
It must be mentioned that while BMW enlists the help of ZF for its eight-speed auto, the unit in the IS F is built in-house by Toyota/Lexus; it actually started life in an earlier Lexus LS flagship, which was the first mainstream production car to feature an eight-speed auto.
Overall, it's one of the most understated and underrated performance sedans around in our opinion. For a driving enthusiast, it offers a perfect balance of engine power, noise, prestige, and driver involvement. It's one of those cars that just keeps on giving the more and more you push it. It also feels consistent and complete, with every aspect feeling like it was built with the same goal in mind.
2013 Lexus IS F – THE VIDEO
2013 Lexus IS F – THE VERDICT
If you're in the market for a proper driver's sedan, one that provides authentic thrills that have been honed on race tracks by racing engineers, the IS F remains as one of the best in the business. The fact that it has a slight 'sleeper' appeal to it only adds to the lust.
Fingers crossed Lexus does produce a similarly spectacular successor…
PROS:
– Hammering V8 powerhouse
– Agile, precise, and rewarding handling; excellent driver-machine relationship
– Understated yet sinister styling
– Eight-speed auto a delight to play with
– Rock solid Lexus build quality
– Flawless brakes

CONS:
– Tight rear seat space; only two seats
– Dash design is nearing its 10th birthday
– V8 vocal chords (exhaust) could sing a bit louder?
– Firm suspension might not appeal to everyone
2013 Lexus IS F – THE COMPETITORS
Audi RS 4 Avant
4.2-litre V8 – 331kW-430Nm – 10.7L/100km – 1870kg – from $149,400
BMW M3 Coupe Pure
4.0-litre V8 – 309kW-400Nm – 12.4L/100km – 1580kg – from $124,645
Mercedes-Benz C 63 AMG
6.2-litre V8 – 336kW-600Nm – 12.1L/100km – 1730kg – from $154,900