The stunning new BMW 3.0 CSL Hommage concept has been unveiled at the Concorso d'Eleganze Villa d'Este event in Italy. It's inspired by the classic 3.0 CSL from 1970s.
Taking the classic CSL model as a base, BMW designers have extended, enhanced, and reinterpreted all of its personality to create something fit for the modern world. You can see the genes shining through from every angle.
At the front you have the focused BMW nose and forward-slanted headlights, just like the original, only the Homage concept gets advanced laser LED lighting. There's also some unique bulging wheel arches that wrap around to the bonnet.
Along the sides you have a two-door coupe body featuring iconic pinstripes and neat little side gills that are still used on BMW M cars today. Down below are a set of carbon fibre side skirts that help hug the car to the ground.
At the back is perhaps the most eye-catching, with muscular haunches encompassing deep-dish alloy wheels. The arches swoop upwards to form part of the rear wing which is just the same size as the classic. There's even a roof spoiler to match.
The new CSL, standing for 'coupe, sport, lightweight' (translated from German), is made with plenty of carbon fibre to keep weight to a minimum. There's also Plexiglas windows and the bare essentials inside for driving. Adrian van Hooydonk, senior vice president at BMW Group Design, spoke about the car, saying,
"Our Hommage cars not only demonstrate how proud we are of our heritage, but also how important the past can be in determining our future. The BMW 3.0 CSL Hommage represents a nod to the engineering achievement exemplified by the BMW 3.0 CSL in its lightweight design and performance."
As for the engine, BMW hasn't mentioned such details, only saying that it features a powerful six-cylinder unit using eBoost technology. We're going to guess and say it's a 3.0-litre inline six, similar to the one seen in the current M3, with an electric turbo to increase overall performance and efficiency.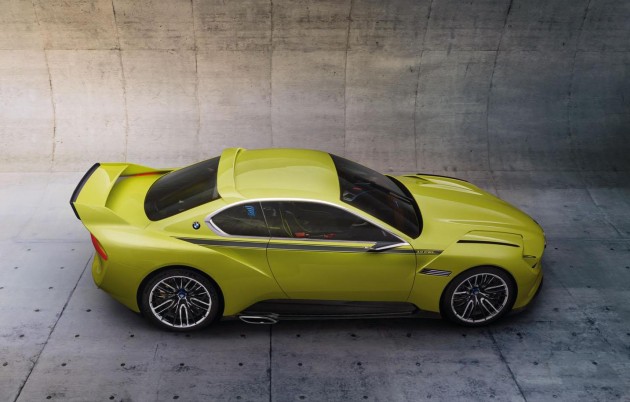 Unfortunately, there are no plans for the modern beast to go into production. We can look forward to seeing BMW engineers and designers using it as inspiration for future models though. Let's keep our fingers crossed the CSL badge returns soon.